Political Coverage, Interest Tank Since '07
In the Pew Research Center's most recent survey, the organization reported yesterday that at this time four years ago, TV coverage and national interest in politics dwarfed the levels being seen today:
In early 2007, with nomination fights underway in both parties, coverage was significantly higher. Interest was higher as well - especially among Democrats - as Obama, an African American, and Hillary Clinton, a woman, proved to be strong contenders for the party's nomination.  

While coverage of the presidential campaign accounted for 7% of newshole, on average, during the first 10 weeks of 2007, so far in 2011, campaign news has accounted for just 1% of coverage, according to the Pew Research Center's Project for Excellence in Journalism.

The public has expressed only modest interest in the 2012 campaign. In a recent News Interest Index survey, conducted March 10-13, 15% of the public said they were following news about the 2012 presidential candidates very closely. During a comparable week in March 2007, 24% said they were following the campaign very closely.

The finding was accompanied by this telling graphic: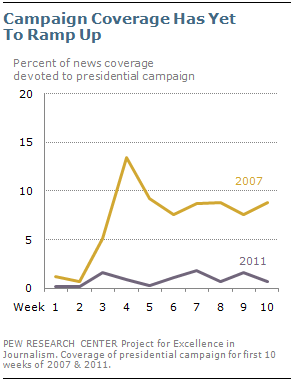 At this point in 2007, the primaries were in full swing. Now, the GOP has only two major candidates to even announce their "exploratory" phase--Newt Gingrich and Tim Pawlenty. The first GOP debate will be held
May 2
... hopefully there will be enough announced candidates to hold one.