Picture of the Day: Woman Suffrage March Program From 1913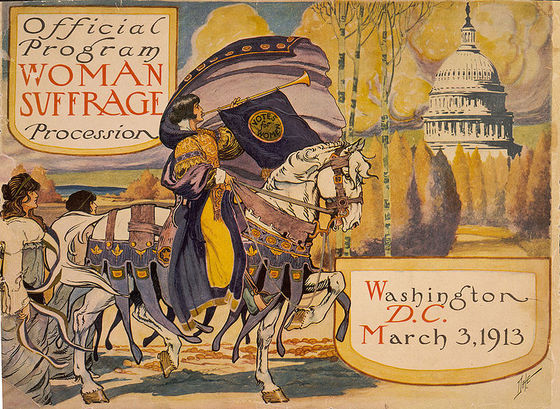 Above is the official program from a 5,000-strong women's suffrage march on Washington held March 3, 1913.
Marching in sections divided by theme of garb--women wore clothes representing various countries where women could vote and various professions--the demonstrators made their way along Pennsylvania Ave. to the Treasury building, where a suffrage-inspired pageant was taking place.
Ms. Magazine, which is retrospectively live-blogging the suffrage movement in honor of Women's History Month, described the march thusly:
... soon after the march began at the Peace Monument and turned down Pennsylvania Ave., marchers encountered an unruly mob. Nonetheless, the suffragists fought their way, foot by foot, toward the Treasury Building amid the raucous crowd of over 500,000-many drawn to the city for President-elect Woodrow Wilson's inaugural tomorrow.

Credit: Wikimedia Commons