Picture of the Day: Did the AFL-CIO Send Gov. Walker This Union Bumper Sticker?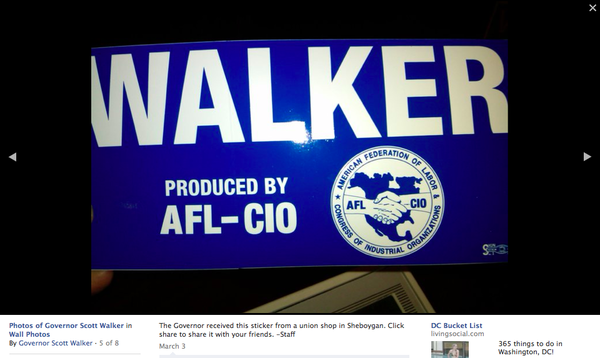 Earlier this month, Wisconsin Gov. Scott Walker posted the above photo of a bumper sticker to his Facebook page, noting that the governor had received it "from a union shop in Sheboygan."
The AFL-CIO is now alleging copyright infringement and demanding that Walker remove the photo from Facebook.
"We checked with all of our people and there is no one actually with the AFL-CIO who sent him that," AFL-CIO spokesman Eddie Vale said today.
AFL-CIO attorneys yesterday sent a cease-and-desist letter to Walker, which read:
It has come to our attention that the Facebook page of "Governor Scott Walker, Public Figure" contains a photograph with both the name and logo of the AFL-CIO, which purports to be an endorsement by the AFL-CIO of Governor Scott Walker. A copy of the photograph is attached to this letter.

The AFL-CIO wants to make it very clear that it in no way endorses or supports Governor Walker. In addition, the AFL-CIO certainly does not endorse or support your unauthorized use of the AFL-CIO's name or any of its marks. This letter is to demand that you, Governor Walker, and those acting on your behalf, must immediately cease and desist from any and all unauthorized uses of the AFL-CIO name and marks, or risk legal action. ...