Picture of the Day: Brazilian Cartoonist Wonders if Obama's Traveling in Search of Oil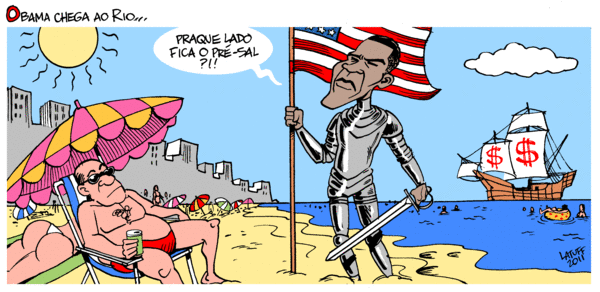 President Obama leaves Friday evening for Brazil as part of a five-day South American trip, which will also take him to Chile and Ecuador. Obama says he'll focus on jobs while there, but a Brazilian political cartoonist suspects he's there in search of oil.
The Portuguese header translates to: "Obama reaches Rio..."
Obama's quote bubble translates to: "Where is the pre-salt?"
The
pre-salt layer
is an oil-rich geological formation found off the coasts of Africa and Brazil. With oil prices spiking, it's no secret the president is conscious of America's supply: Last week he said the administration is ready to tap strategic oil reserves if necessary.
via Twitpic