Newt Gingrich Launches Presidential Exploratory Site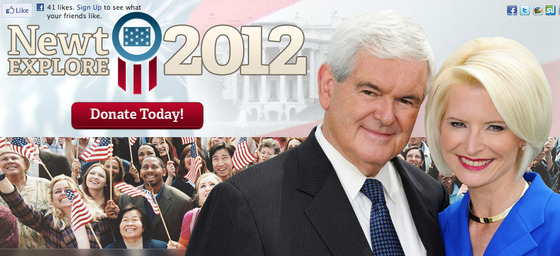 It's official: Newt Gingrich is...thinking about running for president. Gingrich launched his presidential exploratory website this afternoon at
NewtExplore2012.com
.
The exploratory phase is the first official step in running for president. Before announcing an actual bid, candidates will declare they're exploring the possibility of running (they usually announce they've launched an "exploratory committee," as Gingrich has done by creating this website). After such an announcement, candidates begin to abide by federal campaign laws and fundraising restrictions as they raise money to test the waters of candidacy, before they formally declare candidacy and register a campaign committee with the Federal Election Commission.
There isn't much to the Newt Explore 2012 site, other than a "donate" button and this message from Newt and his wife, Callista:
America's greatness lies in 'We the People.'

We are a nation like no other. To remain so will require the dedicated participation of every citizen, of every neighborhood, of every background. This is the responsibility of a free people.

We are excited about exploring whether there is sufficient support for my potential candidacy for President of this exceptional country.

Gingrich is collecting e-mail addresses and contact information from supporters through the site, asking them to fill out an online form and send him feedback. Presumably, Gingrich already has a big list of supporters amassed through his 527 group, American Solutions for Winning the Future, which has crushed the national organizations of other 2012 contenders in fundraising. He'll likely be able to buy that list from his own group, potentially at a discount, once he launches an official campaign.
But the gloves are half off, and the gauntlet is removed, in hand, waiting to be cast downward. Today, an exploratory website; tomorrow, Iowa.