Indiana Democrats Will Face $3,150 in Fines for Walkout
After fleeing the state for nearly five weeks, Democratic members of Indiana's House of Representatives will have to pay $3,150 each in fines for their absence.
The 39 Democrats walked out of Indiana's legislature February 22, seeking to delay action several Republican bills they considered an attack on organized labor. After holing up in Urbana, Ill., the Democrats returned to Indiana's state capitol Monday evening. For the first time Since Feb. 21, the Indiana House was able to reach a quorum and hold session.
While the Democrats were gone, Republicans
passed a motion
imposing fines on the lawmakers for each day of absence when the legislature would have been in session.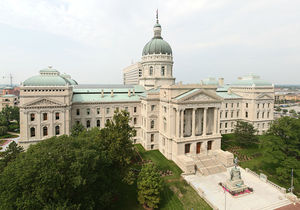 Beginning on the legislative session day of March 7, Democrats were to be fined $250 per day. Democrats have been fined at that rate on the session days of March 7, 8, 9, 14, 15, 16, and 17.
On March 17, as negotiations between Republicans and the absent Democrats broke down, Republicans upped the fines to $350 per day, a rate applied to the missed legislative session days of March 21, 22, 23, and 24.
With Democrats back, and the House back in session at 5 p.m. on Monday, Democrats avoided another day of fines.
All together, the 39 Democrats will pay $122,850.
If the fines are to be waived, Republicans will now have to agree to it. Republican House Speaker Brian Bosma cannot simply waive them, according to House Republican Communications Directory Tory Flynn: A lawmaker must request that the fines be waived, and a majority of the House must vote to approve the waiver.
So, was it worth it?
Democrats return with one major concession from Republicans: an agreement not to pursue a "right-to-work" bill, which would limit unions' ability to organize and require new employees at a workplace to unionize. TPM's Evan McMoris-Santoro gives a rundown of what Democrats had gained as they returned on Monday.