GOP White House Candidates Follow the Agenda, Instead of Setting It
In Republicans' most fragmented primary since 1940, presidential hopefuls are just along for the ride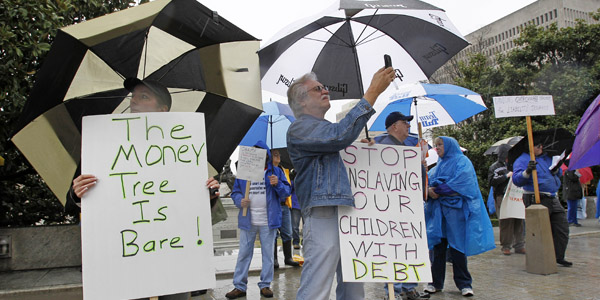 credit: AP Photo/Mark Humphrey
Politics, like nature, abhors a vacuum.
Proving that truism, the slowly emerging class of Republican presidential candidates increasingly looks like a bunch of bystanders. More-dynamic party forces are shaping both the GOP's public image and its internal debate in ways certain to reverberate through next year's nomination battle and the general election. Policy decisions that could enormously affect the eventual nominee's prospects against President Obama are already occurring in the budget confrontation on Capitol Hill and in GOP governors' showdowns with public-employee unions in state capitals--but the choices being made are almost entirely beyond the control of the potential candidates.

---
MORE FROM NATIONAL JOURNAL:
Takeaways From Iowa: Who Connected With the GOP's Evangelicals?
Google's Tarnished Chrome
Union Protesters and Tea Party Share Traits
---
="">
"This is the tail wagging the dog," a senior adviser to a top-tier potential 2012 contender said. "Usually it's the debate among the presidential candidates that sets the framework. This year, you are along for the ride, and you are stuck with these issue positions; and Obama is just sitting back and letting it happen."
Influence is shifting away from the White House candidates partly because no Republican presidential race since at least 1940 has been as wide open as the contest now sluggishly taking shape. In the latest national Gallup survey, Mike Huckabee led with just 18 percent support, followed by Mitt Romney and Sarah Palin at 16 percent each. Of the three, only Romney is considered certain to run.
Since modern primary polling began in 1952, Republican voters have never been so fragmented this close to the first nominating contest. In every other seriously contested GOP nomination race since 1952, Gallup recently noted, one candidate had attracted at least 31 percent support by this point in the process. This cycle, none of the contenders has even crossed the 20 percent threshold. The only eventual nominee who attracted such tepid support at this juncture was Barry Gold­water in 1964--who eventually lost 44 states to Lyndon Johnson.
Considering that New York Gov. Thomas Dewey was favored early for both the 1944 and 1948 nominations that he eventually captured, the last time that Republicans faced a race so undefined was in 1940, when charismatic businessman Wendell Willkie, the quintessential dark horse, surged to the prize. And, arguably, even that field (which included Dewey and Senate titans Robert Taft and Arthur Vandenberg) had more stature in the party than the current group.
With the 2012 class coalescing so slowly, the initiative has flowed elsewhere. On Capitol Hill and in the states, Republican legislators and governors empowered by the party's historic gains in 2010 are advancing aggressive agendas with major 2012 implications. Rather than influencing those ideas, the potential GOP presidential candidates are mostly racing after them.
The best example is in Wisconsin, where newly elected Gov. Scott Walker is seeking to revoke most collective-bargaining rights for public employees. Every major Republican presidential hopeful has endorsed Walker's initiative--which has galvanized conservatives but ignited volcanic resistance from organized labor. The eventual Republican nominee may still consider that issue a winner in 2012. But regardless, he (or she) has already locked onto a position that will allow union leaders to present a GOP White House victory as a threat to the very existence of organized labor. That could electrify rank-and-file mobilization.
Something similar has already happened with Hispanics. Most of the major 2012 candidates have embraced Arizona's tough anti-immigration law (except for Huckabee and Romney, who hedged). Again, the eventual nominee might consider that to be a winning issue next year. But if Republicans choose an Arizona-style hard-liner, Democrats will undoubtedly find it easier to portray the GOP ticket as hostile to a burgeoning Hispanic population.
The same dynamic is developing, with possibly even greater consequences, in Washington's budget battles. Congressional Republicans' decision to twice shut down the federal government defined the 1996 presidential race: Bill Clinton passed Bob Dole in the polls during the second shutdown and never trailed him again. Another shutdown isn't guaranteed to benefit Obama so decisively, but it might--and the eventual GOP nominee has no control over whether it occurs. "You are likely to have to stick with what the House is doing," the senior adviser said.
The same might be true if House Republicans' upcoming budget includes a proposal to convert Medicare to a voucher program, another idea that could rattle the 2012 landscape. "I would love to have a conversation about that [in 2012]," says Democratic consultant Bill Burton, Obama's former deputy White House press secretary.
Across all these fronts, the motivating force in today's Republican Party is the pressure from an energized base to advance highly confrontational conservative proposals on issues from spending to the environment. The possible 2012 GOP standard-bearers universally believe that they will benefit from that tumultuous energy. But they must also navigate between the matched dangers of potentially alienating moderate general-election voters by embracing too many of those vanguard ideas and antagonizing conservative primary voters by rejecting too many.
Either way, the 2012 Republicans are not so much driving their party's train as hanging on as it speeds by.
This article appeared in the Saturday, March 12, 2011 edition of National Journal.
Drop-down thumbnail credit: AP Photo/Mark Humphrey