Gingrich Will Launch Presidential Exploratory Committee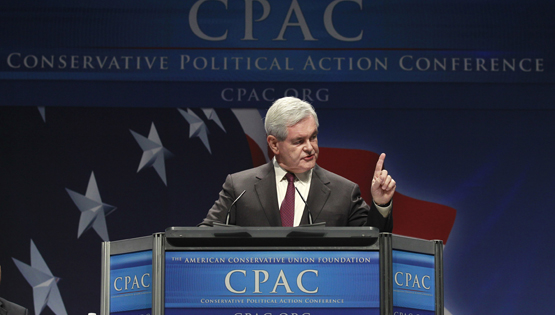 Gingrich speaks at the Conservative Political Action Conference in Washington, D.C. in February. credit: AP Photo/Alex Brandon
Updated at 1:14 p.m. on March 1.
Former House Speaker Newt Gingrich will launch a presidential "exploratory" campaign this week, becoming the first big-name GOP candidate to take a formal step toward a White House bid.
A senior Republican official confirmed the news, first reported by ABC, to National Journal.
Gingrich already has planned two trips this month to states where the first presidential contests will take place next year: He's scheduled an appearance in Iowa on March 7 and one in New Hampshire on March. 17.

---
MORE FROM NATIONAL JOURNAL:
Forecasting the Dynamics for 2012
Senator: Hands Off My Dirt Bike
Issa Investigates His Spokesman
---
="">
He brings major assets -- and baggage -- to the 2012 campaign. But several Republicans who served with Gingrich think the pluses outweigh everything else.
"There is nobody who has a greater presence in a room on a campaign trail than Newt," said former Gop Rep. Tom Davis of Virginia. The enemies that Gingrich made as speaker and his personal problems -- "two divorces that are going to bother some people" -- will pale, Davis predicted, compared to what he offers voters. "If they are looking for a leader ... they tend to forget other things," he said. "He can be formidable; he is a fundraising machine, and he knows how to campaign."
A compulsive innovator who was one of the first in his party to recognize the power of the then-new media in Congress -- C-SPAN cameras -- Gingrich transformed House Republicans in the 1990s from passive minority partners in the chamber to its new majority. But his aggressiveness also took a toll on his career.
After a tumultuous tenure that included two government shutdowns in 1995-96 widely blamed on Republicans (New York's Daily News famously caricatured Gingrich as a "cry baby") and a near-mutiny in Republican ranks as the party's hard-won House majority was winnowed in two successive elections, Gingrich abruptly resigned his high office in November 1998.
Although he has not held elective office in more than a dozen years, Gingrich has remained a political force by dint of his ebullient personality and nonstop stream of ideas. He runs a political action committee that contributed more than $250,000 to Republican candidates during the 2010 campaign, as well as a grassroots organzation that advocates on energy, health care, and economic issues and claims more than 1.3 million members in 30 local chapters. He owns a company that produces movies and books, most recently commemorations of former President Reagan. He founded the Center for Health Transformation, which advises major corporations on reducing health care costs. He's also active on the speaking circuit, giving up to a dozen speeches a month.
Gingrich has toyed with presidential bids before but always stepped back. This time seems to be different.
Just last week, Gingrich penned a lengthy op-ed piece for The Washington Post in which he took credit for the balanced budgets at the end of the Clinton administration. They never would have happened, Gingrich argued, were it not for the controversial government shutdowns for which he has been blamed.
"This historic success was not an achievement of the Clinton administration," Gingrich wrote. "The balanced budget was an outcome driven by House Republicans."
Gingrich enters the presidential fray at a time when tea party activists appear to have made Washington careers a political liability. But ex-Rep. Bob Walker of Pennsylvania, a Gingrich ally in the House, said the former speaker will make "a very strong candidate."
"Newt has a long history in public life, and he certainly has been kicked around by his political opposition in the past. I suspect those issues will arise again," Walker said. "But ... ultimately, people will decide the future is more important than the past. I'll be supporting him if he decides to run."
Drop-down navigation-bar image credit: AP Photo/Alex Brandon