Can Obama Win Warren Buffett's Hometown Again?
OMAHA -- I'm washing down a $9.95 New York Strip with a root beer float on the outskirts of town. The restaurant is on the other side of the Union Pacific tracks and looks like it was built in the Ford administration. It could be any other family restaurant in Middle America.
The only exception is that Warren Buffett is eating lunch here and holding court with a group of business school students. Their enthusiasm about being in the company of Buffett only seems to be exceeded by Buffett's enthusiasm toward his root beer float.
I had the privilege last week to be part of that group, as Buffett graciously hosted a contingent of my fellow grad students from Georgetown University's McDonough School of Business for a Q & A at Berkshire Hathaway and a lunch at
Piccolo Pete's
.
Buffett knows this neighborhood well. As a kid in the 1940s, he helped his dad, a Republican congressman, campaign on this side of town. Union households were common here, and according to the definitive Buffett book
The Snowball
, Rep. Howard Buffet would often get into trouble for his staunch anti-Roosevelt votes.
Today, Warren Buffett is a strong supporter of the president who has been tasked with creating a "
New New Deal
." Indeed, one major reason why Barack Obama won Omaha was because of Buffett's
endorsement
in May, 2008.
"I will be very happy if he is elected president," Buffett said at the time. "He is my choice."
Obama managed to win
Nebraska's 2nd congressional district
, which is essentially Omaha and its suburbs. Thanks to the state's proportional vote system, he won one of Nebraska's electoral votes. It was the first time ever that the loser of the state picked off a vote.
Buffett seems bullish about the economy, which will surely be the pivotal issue in Obama's reelection campaign.
Sipping on one of the six Cokes that he consumes per day, Buffett remarks more than once that "American is wired for success." He notes that standard of living has increased six-fold in his lifetime while the value of the dollar has decreased 94 percent (increasing purchasing power).
He hints support of policymaker's loosening of money -- "If I owe you a thousand Warrenbucks, I want those to be worth less in the future" -- and pulls out a $100 trillion Zimbabwean note from his wallet to make a point that we are a long way from destructive inflation.
He seems concerned, but not worried about public debt.
Even though Buffett did not vote for George W. Bush, he credits the Bush administration and particularly Fed Chairman Ben Bernanke from averting disaster in the late 2008. "The dominoes were lined up like you wouldn't believe," he recounts, warning that even Goldman Sachs could have fallen. Berkshire ended up laying down $15 billion in 25 perilous days.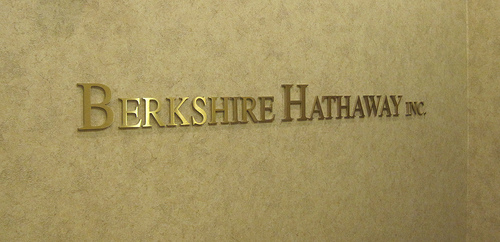 Buffett voices support for TARP, a measure often incorrectly pinned on the Obama administration, but hints that the government loan to GM was foolish. "If horses could vote, there would be no tractors," he jokes, noting that Congress felt cornered to help GM after bailing out the likes of Citi and Fannie.
Even though he is valued at a
reported
$47 billion, Buffett still drives his own Cadillac to his office in nondescript 14-story office building on the outskirts of town. He is one of the brightest minds in America, but is still very much a product of Omaha.
Buffett's Kind of Town
This is a traditional town whose boom period was the 1880s, a couple of decades after Abraham Lincoln designated it as the eastern terminus of the Transcontinental Railroad.
Built on the bluffs cut by the Missouri River, Omaha has always been a town of stockyards and steaks. Jack Kerouac wrote about "the first cowboy I saw" upon entering Omaha, "walking along the bleak walls of the wholesale meat warehouses in a ten-gallon hat and Texas boots."
Its home to
Leo's Diner
, which serves the best breakfast sandwich of my lifetime: Thick-cut bacon, a sausage patty, hash browns, eggs, and American cheese on thick-cut whole wheat bread.
Economically, its five Fortune 500 companies are a reflection of what it does best: Berkshire Hathaway (conservative value investing), Mutual of Omaha (insurance), Union Pacific (railroads), Kiewit (contracting), and ConAgra (agribusiness).
Politically, its residents espouse a conservatism that has helped make Nebraska the second reddest state in presidential elections in the last 50 years, behind only Utah, according to The Almanac.
Omaha is the kind of town that hosts the College World Series. It's historically been a Big XII city clad in Husker red, and no conference was more pro-Bush than the Big XII. Bush swept the seven states that have a Big XII school the way
Obama won the eight states in the Big Ten
. Interestingly, now the Huskers are joining their neighboring Hawkeyes in the Big Ten.
So can Obama win Nebraska's 2nd District again?
Obamaha in 2012? 
In his book How Barack Obama Won, MSNBC's Chuck Todd makes the point that the Obama camp played to win in Omaha. "What did the Obama folks prove: half of politics is showing up and the Obama campaign showed up in Omaha, while the McCain campaign did not."
Obama will surely have enough money to spend in 2012, and it will spend plenty in Omaha trying to reach Iowa voters across the river. In 2008, Obama spent
over $628,000
in TV ads in this market. So from their perspective, it makes sense to target Nebraska's 2nd again.
But Omaha strategist Solomon Kleinsman, who founded the local grassroots group Omaha for Obama in 2007, doesn't think he'll win it again.
"This district leans right, because it includes a rural area south of town (the city is pretty evenly split), so for a Democrat to win they have to get all the Democrats, make the North Omaha black community come out in droves, South Omaha Latinos show up, and also get a comfortable majority of the swing vote," Kleinsmith says. "I just don't see that happening this next time around."
African-Americans account for 9.6 percent of the district's population while Latinos account for 8.6 percent. Assuming he wins 95 percent of blacks and 65 percent of Latinos (my own predictions), my calculations shows that he would need to win 42 percent of whites in the 2nd District to win it again.

He won 39 percent of whites in all of Nebraska in 2008. I don't have data for each congressional district within the state, but I imagine his share of the white vote was much higher in Omaha. Even so, he only won by a margin of 3,325 votes.
Race is about the only voting metric that I have data on, and by this quantitative measure, the odds look longer for Obama, given the decline in support for him among white voters in the Midwest since 2008. Qualitatively, it also looks like even more of a long shot. Even Klinesmith, founder of Omaha for Obama says, "I've been pretty disappointed with his presidency."
But if the Obama team is good at one thing, it's running a masterful campaign. He's also got Buffett in his corner, who, during our Q & A at Berkshire, warned against predicting the future. "I talked with Bill Gates about the Internet in 1994, and I couldn't predict how it would end up having value for GEICO," he said about one of his marquee holdings.
So maybe Obama will pull it off.  But I'm not sure I'd put too much money on it.

Photo credits: Jason Ulrich/flickr; Patrick Ottenhoff