Can Mitt Romney Win in 2012?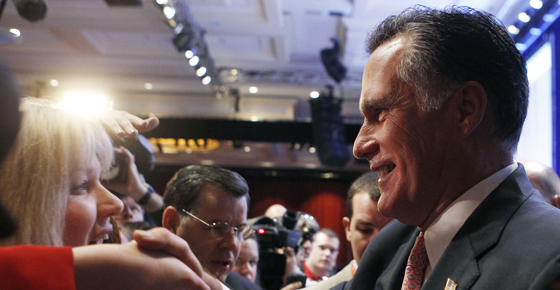 credit: Larry Downing/Reuters
Don't you dare call Mitt Romney the front-runner.
Sure, he's got the money, the organization, the best-selling book, and the hair. In national polls of possible candidates for the Republican presidential nomination in 2012, Romney is at or near the top. Perhaps most important, he has run before. Paid his dues. Been to the rodeo.
Ask anybody: If there is a front-runner in the race, it's Romney. Of the other potential contenders who could be labeled as leading the pack, Sarah Palin is too divisive, the thinking goes, while Mike Huckabee can't put enough money together. (By the way, does a guy planning to take a weeklong cruise to Alaska in June act like he's running for president?)
Yet in the same Romney-is-the-front-runner breath comes this: It's too early to make predictions. The race is totally fluid. Anything can happen.
In other words, Romney is the front-runner for a nomination that nobody assumes he'll win.
No need to ask why. His problems are well documented. Fiscal conservatives cringe at parallels between the former governor's health care program in Massachusetts and President Obama's federal plan. Social conservatives wince at Romney's flip-flops on abortion, gun control, immigration, and gay rights, and, privately, at his Mormonism.
All of which make Romney a very different kind of Republican front-runner. He's not a commanding leader of the pack like Ronald Reagan in 1980, who could afford to sit out straw polls and candidate forums. He's not George H.W. Bush, a sitting vice president climbing atop the ticket in 1988. He's not Bob Dole, the GOP's elder statesman, making his third bid for the presidency in 1996. He's not the financial and organizational juggernaut that was George W. Bush in 2000.

---
MORE FROM NATIONAL JOURNAL:
Top Senators See Merit in No-Fly Zone
Romney Critiques Obama, Health Care in N.H.
The Rising Hispanic Tide
---
="">
Romney stands on the precipice of the race looking more like one of the equivocal Democratic front-runners of the 1980s--say, Gary Hart before the Monkey Business episode--a candidate whose strengths appear almost evenly matched by his weaknesses. Republicans share a widespread sense that the 2012 race has been unusually long in taking shape. That may be largely because no one can quite figure out whether they believe the man nominally at the head of the line can defend that position once voters weigh in.
"The prevailing theme for this cycle is, 'Who will be the last man standing?' " said GOP strategist Alex Castellanos, a top Romney adviser in 2008. "Nobody wants to set themselves up as a target for the media and their opponents, especially if you've been around the track before. Let the other guy step to the front of the line."
"WE'RE IN NO HURRY"
A strong case can be made for Romney's candidacy--when he's ready to start making it. The team behind Romney's Massachusetts-based political action committee, Free and Strong America, says little on the record these days. I took them up on a vague lunch invitation, flying from Washington to Boston just for the day, and was politely asked to put my notebook away.
Campaign operatives frequently try to talk reporters into stories or out of them. The Romney team, for now, is curiously low-key.
"I'm not interested in ginning up 2012 stories," said Eric Fehrnstrom, Romney's traveling press secretary for the 2008 campaign and a former newspaper reporter. "The big lesson we learned from last time was that we got started too early. We're in no hurry to announce our plans."
Sitting next to Fehrnstrom at a trendy downtown restaurant was Matt Rhoades, Romney's former communications director, who had even less to say. Rhoades was a spokesman for the Republican National Committee and research director for President Bush's reelection in 2004. Pressed repeatedly to talk about the shape of the race, Rhoades deferred to Fehrnstrom: "There is no race. There are no candidates. How can you know who the front-runner is?"
Indeed, the most recent Gallup Poll shows a statistical tie between Huckabee at 18 percent and Romney and Palin at 16 percent apiece. A dozen other potential candidates logged single-digit ratings. Herman Cain, a former CEO of Godfather's Pizza, is the only relatively prominent Republican officially in the race.
"I can't remember a time in Republican politics when the field was this wide open," said Bill Whalen, a research fellow at the Hoover Institution at Stanford University.
Even as he delays an official campaign launch, Romney is working diligently to court donors (he raised $6.3 million in his state and federal accounts last year), map out a campaign strategy, and sculpt his image. In one recent week, he made an unannounced stop at a NASCAR race wearing a sportsman's fishing shirt; penned a National Review column assailing Obama's policy toward Israel; and sent a $5,000 donation from his PAC to the Wisconsin GOP to show support for Gov. Scott Walker's standoff with public-employee unions.

Romney's aides would not release his travel plans or speculate on when he might announce his candidacy. His scheduled appearance at the Carroll County Republican Party's Lincoln Day Dinner on March 5 will be his first announced visit to New Hampshire since October, a must-win state for Romney that hosts the nation's first presidential primary.
"We got some good ideas" from Romney about health care reform. --Former White House aide David Axelrod
He and other Republican hopefuls are taking their time for good reasons. The constantly churning news cycle makes it much harder for front-runners to sustain momentum. Few can withstand the intense, unrelenting scrutiny of the Internet and cable television. What's more, if the national Republican Party has its way, the 2012 primaries will be more of an endurance test than a sprint. In 2008, Iowa voted just three days into the year, Super Tuesday fell in February, and the nomination was settled by March 4.
For 2012, the RNC is nudging the four earliest voting states, including Iowa, toward February dates; states that award delegates proportionately toward March; and winner-take-all-states to April. States that violate the rules risk losing delegates and weakening their political clout.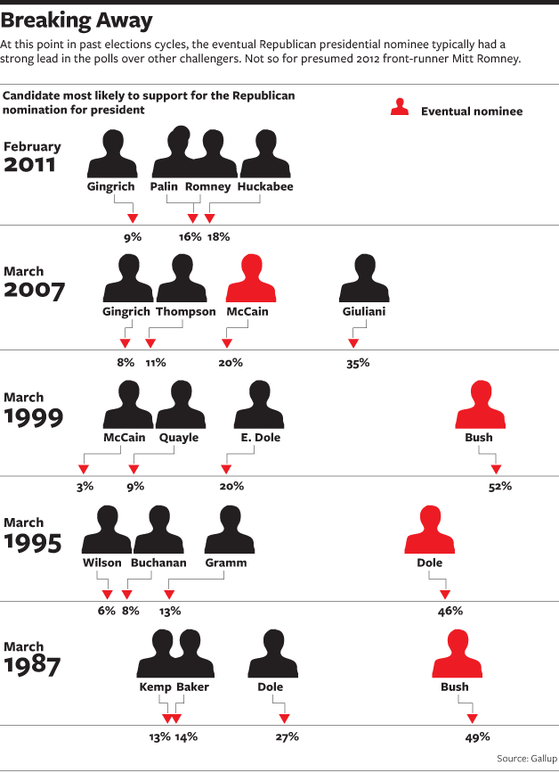 "The longer he waits to start campaigning, the better," said seasoned GOP fundraiser John Rood, who quietly squired Romney to meetings with South Florida donors last month. "Once it starts, it's off to the races. So if you can run a 23-mile marathon instead of a 26-mile marathon, you do it."
At this time four years ago, Romney had already completed the equivalent of an Ironman competition.
He had aired campaign ads in five early-voting states; defended his previous support for abortion rights; explained why he only recently joined the National Rifle Association; acknowledged he voted for Democrat Paul Tsongas in the 1992 presidential primary; confronted questions about illegal immigrants tending his lawn; and deflected arguments that his Mormonism wouldn't alienate voters.
No wonder Romney titled his post-campaign book, "No Apology." He spent much of the last campaign on his knees, begging social conservatives to accept him. He was a little too eager to please.
"A great quality that he has, that didn't serve him well in the last campaign, was answering every question asked," said Ron Kaufman, a veteran Washington lobbyist and an ardent Romney promoter. "He's so smart that if you ask him about some nuance regarding health care, his brain will give you a thoughtful and possibly arcane answer. But you don't have to do that. You can answer the question the way you want to.
"Ronald Reagan was great at that, the big-picture things," added Kaufman, a top national Republican Party official in the 1980s. "Does anyone in this country think Ronald Reagan went down into the weeds of the issues? But the voters knew where he was going."
Where, exactly, is Romney going? And is he comfortable walking around in his own skin?
Romney's biggest problem in 2012 may not be health care, his religion, or his about-face on abortion--but authenticity.
In 2008, it wasn't until onetime front-runner John McCain was down and nearly out that he sealed the deal with the GOP faithful. In contrast, the well-heeled Romney never broke through. A moderate Republican who thrived in the true-blue state of Massachusetts, Romney tried to remake himself as a conservative crusader and came off as a phony.
"No one questions his CEO abilities, but last time, he dove so far to the right trying to appeal to Christian conservatives that he became almost a caricature of himself," said Iowa power broker Doug Gross, who led Romney's campaign in that state in 2008 but hasn't jumped aboard this time. "I think a number of people are skeptical of his ability to connect with the average voter."
THE ELEPHANT IN THE ROOM
Expectations were running high last month when Romney strode onstage at the Conservative Political Action Conference in Washington to the cheers of thousands of grassroots activists. It was a homecoming of sorts. If Rep. Ron Paul, R-Texas, would win "Most Popular" at the three-day event dominated by the Young Republican set, the well-coiffed Romney would be elected "Most Likely to Succeed." He has topped CPAC's straw poll three times and came in second this year, behind Paul. In February 2008, Romney chose the gathering to announce his withdrawal from the presidential race.
So on this Friday morning, Romney was at ease in his dark suit and rose-colored tie. The setting felt like a family affair, with his wife, Ann, introducing him this way: "I, for one, would like to see him lead the country as president of the United States."
The line went over well in the packed ballroom at the Marriott Wardman Park hotel, and Romney seemed to enjoy delivering his 17-minute speech. His timing was good; the audience clapped and chuckled in all the right spots.
"It's going to take a lot more than new rhetoric to put Americans back to work. It's going to take a new president," he said. "Let me make this very clear: If I were to decide to run for president, it sure wouldn't take me two years to wake up to the jobs crisis threatening America. And I wouldn't be asking [Treasury Secretary] Timothy Geithner how the economy works, or [former Obama adviser] Larry Summers how to start a business. I know."
The cofounder of a celebrated private-investment firm, turnaround artist of the 2002 Winter Olympics, and one-term governor of Massachusetts didn't need to explain. Romney's extensive executive résumé holds up well next to Obama's dearth of pre-White House experience. In the first presidential election since the Great Recession, it's a good bet that Romney's private-sector accomplishments will be a popular selling point.
But hovering over the presumptive Republican front-runner was an uncomfortable question: Would he mention health care?
As governor of Massachusetts from 2003 to '07, Romney spearheaded groundbreaking legislation that requires most state residents to buy insurance. This individual mandate, aimed at balancing health care costs between the sick and the healthy, also sits at the heart of Obama's federal law.
Romney "did some interesting things there on health care, you know," former White House adviser David Axelrod told USA Today, in praise that is certain fodder for the GOP primary and was echoed by Obama this week. "We got some good ideas from him."
"Obamacare" has become a rallying cry for Republicans nationwide, and at CPAC, it was public enemy No. 1. In a preview of the GOP primary race, speaker after speaker railed against the legislation and, implicitly, against Romney's legacy in Massachusetts.
Rep. Michele Bachmann, R-Minn.: "Repealing Obamacare is the driving motivation of my life."
Former Minnesota Gov. Tim Pawlenty: "The individual mandate reflects completely backwards thinking. They, the bureaucrats, don't tell us what to do. We, the people, tell the government what to do!"
Indiana Gov. Mitch Daniels: "The health care travesty now on the books will engulf private markets and produce a single-payer system or its equivalent, and it won't take long to happen."
If Romney wanted to tackle his health care problem head-on, CPAC was the place.
But how?
• Apologize. A number of CPAC activists said they would welcome a mea culpa from Romney. But expressing regret for his plan in Massachusetts would almost certainly rouse the flip-flopping ghosts of his 2008 campaign. The narrative of a shape-shifting politician willing to abandon his convictions could doom another White House bid. If Romney's challenge in the broadest sense is to come across to voters as authentic, how can he run away from one of his signature accomplishments as governor?
"A case can be made that someone had to lead," said veteran GOP strategist Sally Bradshaw, who helped steer Romney's campaign in Florida in 2008. "You have to make difficult decisions that are not always politically popular. Sometimes, you have to own things. That's one piece of the puzzle of the Romney candidacy."
• Explain. This is the approach that Romney has tried so far, with little success. He argues that a state program differs from a one-size-fits-all federal mandate. He stands by his record in Massachusetts while calling for the repeal of the federal health care legislation. It can be a long-winded and, many Republicans say, unconvincing response that doesn't come close to matching the thwack of a bumper sticker-sized Romneycare/Obamacare attack.
"If you're explaining, you're losing," said Chris Chocola, president of the free enterprise-championing Club for Growth. "I don't know if the health care issue is fatal for Romney, but he's going to have to find a way to explain it that gives people more comfort.... The explanation he's offered so far hasn't been satisfactory, so the focus on his health care record continues to grow rather than diminish."
• Ignore. This is the strategy that Romney ultimately chose at CPAC, and depending on your view of him, it either reinforced the perception that he's a confident pacesetter staying above the fray or a weak front-runner unwilling to confront his biggest vulnerability directly. Once the race starts in earnest, he won't have a choice. With a slew of candidates jockeying to be seen as the Romney alternative, his health insurance law will be a prime target. The first volley came last month from Huckabee, who not by coincidence was at the time promoting a new book called "A Simple Government."
"It could be argued that if Romneycare was a patient, its prognosis would be dismal," Huckabee writes. "If our goal in health care reform is better care at lower cost, then we should take a lesson from Romneycare, which shows that socialized medicine does not work."
In a sign of how it plans to handle the issue, the Romney team's response was short and to the point: Next?
"Mitt Romney is proud of what he accomplished for Massachusetts in getting everyone covered," Fehrnstrom said in a written statement. "What's important now is to return to the states the power to determine their own health care solutions by repealing Obamacare. A one-size-fits-all plan for the entire nation just doesn't work."
At the conservative conference in Washington, Romney mentioned a federal health care "takeover" only briefly and didn't say a word about his record as governor. He also ignored the social issues that bedeviled him in 2008 except for a quick mention of protecting "the unborn."
If his CPAC speech is a window into Romney's campaign, he will frame the race as a referendum on Obama's economic policies. That looks like solid ground for a successful corporate executive with a Harvard business degree.
"He knows he should run to his strength, and that's what he's going to do," said former Massachusetts Gov. Paul Cellucci, who supported Rudy Giuliani in 2008.
"My gut tells me that health care will be asked and answered, and then people will move on," said Wall Street investor Lewis Eisenberg, a major fundraiser for McCain in 2008 who is now collecting money for Romney's PAC. "In the end, it won't be the deciding factor. The No. 1 issue is jobs and, in the broader sense, the economy, the deficit, and taxes."
Some Romney supporters point to McCain's experience in 2008 as instructive. The Arizonan won the GOP nomination despite spearheading campaign finance and immigration reforms pilloried by conservatives. If McCain could overcome those obstacles, the thinking goes, Romney can overcome health care reform.
Perhaps. But campaign finance and immigration were secondary issues in 2008, eclipsed by the debate over the war in Iraq--an issue that played to McCain's strengths. Even if health care reform is not the dominant issue in the presidential race, it seems destined to be a major factor whether Romney talks about it or not. Legal cases questioning its constitutionality are proceeding through the courts. GOP governors are challenging its implementation in their states. And congressional Republicans are trying to defund it. All three of those lines of attack are likely to continue well into 2012.
If Romney were facing a more fearsome crop of competitors, his health care record might well be a deal-breaker. His front-running status endures because every one of his likely rivals shoulders major liabilities.
Mississippi Gov. Haley Barbour's downfall could be his salad days as a Washington lobbyist. Jon Huntsman, tapped by Obama to be the U.S. ambassador to China, will have to explain his work for a Democratic administration. Pawlenty, the former Minnesota governor, lacks a strong identity and national profile.
"Mitt said the other day, 'Every potential candidate has a but, as in, I like Huckabee but ... or, I like Sarah Palin but.... Well, my but is health care,' " said Rood, the Florida fundraiser. "In a perfect world, it would be nice if he hadn't taken that issue on. It's definitely the No. 1 question I get from potential supporters. But there is no perfect candidate."
THE REAL THING
Romney can train his sights on Obama's economic record and promote his own boardroom experience, but a candidate can't control outside political forces and unexpected events that may pivot voters in other directions. The surging tea party movement turned several 2010 primaries into conservative purity tests. In the Gallup survey, voters who prioritize social issues and moral values leaned heavily toward Huckabee, a Southern Baptist minister, and Palin, a born-again Christian.
Skepticism toward Romney among religious voters is nothing new. He received only 20 percent of the evangelical vote in the 2008 primaries, according to ABC News exit polls, compared with 39 percent for Huckabee. In South Carolina, a key early-voting state where evangelicals made up 60 percent of the GOP primary electorate in 2008, Romney got support from only 11 percent.
Romney's religion was undoubtedly a factor; supporters say it's less relevant four years later. Voters have had time to get used to the idea of a Mormon candidate, and they did send a black man named Barack Hussein Obama to the White House. If Huntsman decides to run, there will be not one but two Mormons in the race, defusing religion as an issue.
So if Romney can successfully navigate the minefield that is his health care record, and avoid getting drawn into awkward debates about social issues, and keep voters' minds off his religion--all possible--he's down to just one, giant, overriding problem.
Keeping it real.
Romney has already stumbled in that respect by revising parts of his latest book before it was released in paperback. While the hardcover version of No Apology gives a mixed review of Obama's massive economic-stimulus plan, the post-tea party paperback declares it a "failure." The newer version also takes a harder line against the president's health insurance agenda.
"Every book gets updated when it goes from hardback to paperback," Fehrnstrom said. "He updated the sections to talk specifically about the impact of the legislation."
Most Republican leaders who sized up the stimulus and health care plans immediately predicted doom. Romney's revisions will come in handy for critics eager to discredit him as a double-talker.
Warren Tompkins, Romney's South Carolina consultant in 2008, suggested that he could learn a thing or two from politically incorrect politicians such as Palin and New Jersey Gov. Chris Christie. People don't agree with everything they say but think they mean it.
"You've got to be true to who you are and what you believe in, and if you're not comfortable with what you're saying, people can see through it," Tompkins said. "If you're a buttoned-down guy, you need to stay a buttoned-down kind of guy. You have to be genuine and consistent and willing to state what's on your mind, not give pat answers. That's what people are looking for in this political climate."
Romney showed a willingness to poke fun at his Ken doll-visage when he appeared in February on CBS's "Late Show With David Letterman"--without a tie--and recited the "Top 10 Things You Don't Know About Mitt Romney." Tall, dark-haired, and handsome, Romney quipped, "No. 8: I'm the guy in the photo that comes with your picture frame."
Ha. Romney's picture-perfect image could be harder to shake than the oft-maligned individual mandate in his health care plan. His starched-shirt polish contrasts with the accessibility created by Huckabee's Oprah-like confessions about weight gain and Barbour's sly, Southern charm.
Romney may have hit the right tone in his CPAC speech when he talked about his father, a college dropout who apprenticed as a lath-and-plaster carpenter and rose to become chairman of American Motors. George Romney went on to serve as governor of Michigan and lose a presidential bid.
"For my dad, America was the land of opportunity, where free enterprise, small business, and entrepreneurs were encouraged and respected," the son said. "I refuse to believe that America is just another place on the map with a flag. I believe that America is an exceptional nation of freedom, opportunity, and hope."
He brought the crowd to its feet.
This article appeared in the Saturday, March 5, 2011 edition of National Journal.