Former congressman Bart Stupak was the lynchpin of health reform's passage, and he paid a price for it in the end.
The pro-life, Michigan Democrat led a small but powerful bloc of Democratic lawmakers to oppose the bill because of its language on federal funding of abortions. Seemingly at the last minute, Stupak and the White House hammered out a compromise, his pro-life allies supported the bill, and it passed by a thin margin.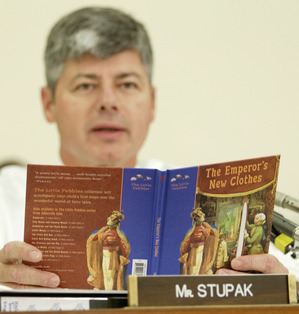 After that, Stupak received a death threat. Facing outside spending in his district and a vitriolic political climate, he decided not to run for reelection. Now, he's a visiting fellow at Harvard's Institute of Politics.
On health care reform's first birthday, Stupak told The Atlantic about getting "bitch[ed] out" by angry citizens in airports, how he and President Obama reached the deal that secured the bill's passage, and that Rahm Emanuel knows better than to get in his face.
A lightly edited transcript, with some questions and parts of answers excised:
---
How do you look back on health care reform now, as a time in American politics and as a moment in Congress?
Well it certainly was a historic debate. It wasn't Congress's best time, especially when you had people like some Republican members off the Speaker's Lobby urging protesters on the ground--I thought that was unbecoming of members of Congress--and you know members were spit on and threatened as they walked over to vote. I don't think that was a very glorious moment in our history, but from a historical point of view the health care legislation is historic. It's the law of the land, and it's being implemented. And I find it amusing that even states that declare it unconstitutional are implementing it.