Wisconsin: A Critical Fight for the Labor Movement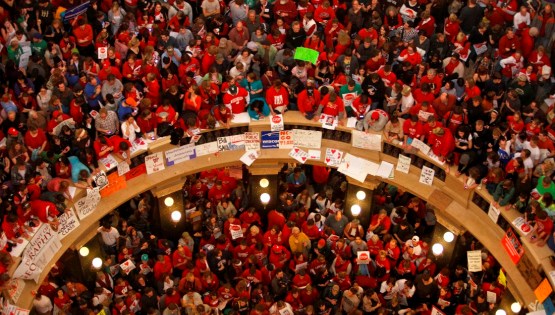 Protesters swarm the rotunda of Wisconsin's state capitol on Thursday. credit: AP Photo/Andy Manis
The standoff between public employees in Wisconsin and the state's new Republican governor has drawn President Obama into the fray and marks an important turning point in the century-plus story of organized labor in America.
More than 25,000 protesters turned out in Wisconsin to sound their dismay at Gov. Scott Walker's plans to use emergency legislation to roll back collective-bargaining rights for the state's employees. The measure would  limit workers' ability to strike over issues other than pay. Foremost on that list is health insurance, which has become an increasingly important part of the compensation package for public and private union members in recent years as governments and corporations have pushed back against salary increases. Democrats in the Wisconsin Legislature are trying to block Walker's measure, and they're getting support from Obama who talked to a Milwaukee television reporter on Tuesday about his concerns.

---
MORE FROM NATIONAL JOURNAL:
Clinton's Moment?
How I Went From Bush Loyalist to Critic
Palin Picks Fight With First Lady
---
="">
"Some of what I've heard coming out of Wisconsin, where they're just making it harder for public employees to collectively bargain, generally, seems like more of an assault on unions," Obama told the local reporter. "I think everybody's got to make some adjustments, but I think it's also important to recognize that public employees make enormous contributions to our states and our citizens."
It's no wonder that the White House's political arm, Organizing for America, and the Democratic National Committee have been lending support to the Wisconsin protesters.
Of course, fights between management and labor are nothing new, and battles between officeholders and public-employee unions aren't unique. Anyone who has lived through a sanitation workers' or a teachers' strike can testify to that. Indeed, politicians of both parties regularly seek to keep public-employee costs down to relieve pressure on budgets and taxes.
But the Great Recession has created a fiscal crisis in states, counties, and municipalities. As a consequence, some governors have gone beyond traditional budget-cutting. Like Wisconsin's Walker, they have instead sought to revamp the basic collective-bargaining rules that public employees have come to see as beyond political debate.
Walker's moves are similar to proposals by two old-hand Republican politicians who find themselves as freshman governors -- John Kasich, the former House Budget chairman who is now  Ohio's governor, and Terry Branstad who has retaken the governor's chair in Iowa. Each is trying to pare not only the state budget but also the rights of public employees.
This is a far cry from other recent measures such as Obama's freeze on federal salaries in his proposed $3.7 trillion budget. It is of an entirely different stripe than the Democratic Congress's failure in 2009 to pass the Employee Free Choice Act, the so-called card-check bill, that would have made it much easier for unions to hold, and win, elections--a setback that broke the hearts of union officials. No, the Walker move is more akin to the 2002 debate in Congress over the creation of the mammoth Homeland Security Department where President George W. Bush and his Republican allies in Congress managed to exempt many jobs from traditional union work rules.
What's happening in Wisconsin is more threatening to unions because it's not just giving back money--something that's become a mainstay in the auto industry for years. It's giving back hard-won rights. By going after collective-bargaining rules, Walker has taken on public-employee unions in a way that's more fundamental, profound, and threatening to unions than New Jersey's Republican Gov. Chris Christie's wielding of the budget axe. Christie has become the darling of the GOP circles because of his administration's fiscal austerity.
By taking aim at the ability of public employees to strike, Walker has found a tool that may well cut the state's budget deficit. In doing so, however, he has lit a fire under Democrats and a chastened labor movement that has gotten used to givebacks.
Collective bargaining is the infrastructure--the essential core of labor's rights and power--and so  attacks on that right go to the heart of the union movement. That is why the president weighed in on what is at first glance a local issue. If the battle of Madison spreads beyond Columbus and Des Moines to the rest of the country, we'll be hearing a lot more on this topic from the president.