Sen. Jeff Bingaman Will Retire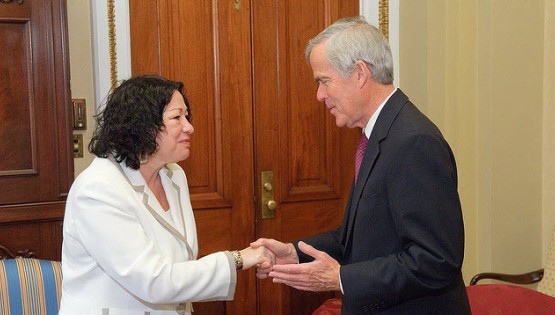 Bingaman with Supreme Court Justice Sonia Sotomayor. credit: nmfbihop/Flickr
Senate Energy and Natural Resources Committee Chairman Jeff Bingaman, D-N.M., will announce shortly that he will not seek reelection in 2012, according to Democratic sources, a move that puts another of the party's seats in play and increases the GOP's chances of recapturing the Senate.
Bingaman is the fourth Democratic senator and the third-sitting chairman to announce plans to step aside after next year. Senate Budget Committee Chairman Kent Conrad, D-N.D., Homeland Security and Governmental Affairs Chairman Joe Lieberman, ID-Conn., and Sen. Jim Webb, D-Va., have also announced that they will not run again. On the GOP side, two senior members, Senate Commerce Committee ranking member Kay Bailey Hutchison, R-Texas, and Senate Minority Whip Jon Kyl, R-Ariz., have said they will retire.

---
MORE FROM NATIONAL JOURNAL:
Clinton's Moment?
How I Went From Bush Loyalist to Critic
Palin Picks Fight With First Lady
---
="">
While Democrats retain a voting-registration edge in New Mexico, a state that President Obama carried handily in 2008, Bingaman's decision will likely ensure a contested race and increase the challenge that Democrats face in maintaining the majority. Democrats must defend 23 Senate seats next year; the GOP, just 10.
National Republican Senatorial Committee spokesman Brian Walsh said that the seat "immediately presents another strong pickup opportunity for Senate Republicans. It also further limits the ability of national Democrats to play offense when their resources will be spread out over such an expansive, defensive map."
The decision caused immediate speculation about whether former New Mexico Gov. Bill Richardson will seek the nomination. Richardson, also a former presidential candidate, Energy secretary, and U.N. ambassador, represented northern New Mexico in the House from 1983 until 1997.
Former Rep. Heather Wilson of New Mexico now appears a likely GOP candidate for the seat and perhaps a party favorite due to relatively moderate credentials that could give her a general-election boost. A GOP source said that Wilson "had already been taking a close look at running even before today's news."
Rep. Steve Pearce, R-N.M., who beat out Wilson for the GOP nomination in 2008 before losing to Sen. Tom Udall, D-N.M., is also a potential candidate. The GOP source, however, called Pearce's 22-point loss to Udall hard to overlook.
"Last I spoke with Mr. Pearce, his priority and focus was on serving New Mexico's s 2nd District," spokesman Eric Layer said.
First elected in 1982, Bingaman was a strong favorite to win reelection, but he is a reserved senator who never appeared comfortable on the campaign trail. He had been on the fence for months about whether to seek another term. In a February 4 interview with National Journal, Bingaman declined to say which way he was leaning but suggested that he had put in enough time as a lawmaker.
"You know, I've been here for 28 years now," he said.
His decision frees him up to concentrate on developing a clean-energy standard with the Obama administration without attending to the tasks of traveling and raising money.
Bingaman has been a key Democrat on several issues in addition to energy. He was among six Senate Finance Committee members who helped craft the panel's health care overhaul proposal in 2009.
With Senate Health Labor and Pensions Committee Chairman Tom Harkin, D-Iowa, he is also a lead Democratic negotiator on a No Child Left Behind reauthorization bill. Bingaman attended a White House meeting on the bill on Thursday.
His exit comes amid an effort by Democratic Senatorial Campaign Committee Chairwoman Patty Murray, D-Wash., and top Senate Democrats to push wavering incumbents to make quick decisions on whether to run again. When asked on Thursday about that push, Murray said only that Democrats are "working hard" to field as strong a 2012 slate as possible.
With recent decisions by Webb and Bingaman, Sens. Daniel Akaka, D-Hawaii, and Ben Nelson, D-Neb., are seen as key remaining question marks on the Democratic side.
Sean Sullivan, Chuck McCutcheon, and Jessica Taylor contributed