Sarah Palin's Personal Shopper Heads to RNC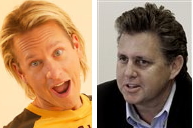 Yesterday, the RNC made a Minnesota political consultant named Jeff Larson chief of staff. I predict the staff of the RNC will suddenly become really sharp dressers. That's because Larson was--as I wrote two years ago in this post--the guy who bought Sarah Palin $150,000 worth of designer clothes. From the piece:

Move over Carson Kressley. A new celebrity shopper has emerged!

The attention from Jeanne Cummings's much-talked-about Politico story has naturally focused on the $150,000 in luxury clothing purchased for Sarah Palin at Neiman Marcus, Sak's Fifth Avenue, and Barney's. What hasn't yet gotten any attention is who bought it for her. But buried in the same FEC disclosure form that revealed Palin's taste for the fine life is the name of the man who appears to have been her personal shopper: Jeff Larson.