Republicans Skeptical of Obama's Budget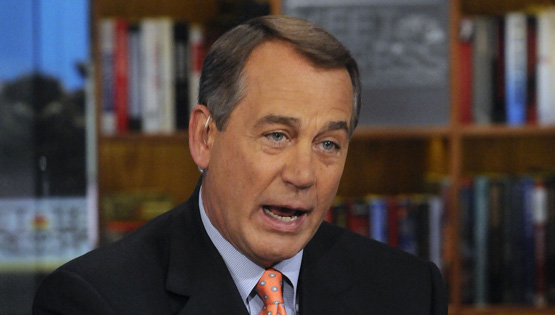 John Boehner on NBC's "Meet the Press." credit: AP Photo/NBC, William B. Plowman
One day before President Obama releases his budget plan for next year, House Republicans said today that they aren't impressed with what they've heard so far.
"Spends too much, borrows too much, and taxes too much," said House Speaker John Boehner, R-Ohio, in an interview on NBC's "Meet the Press."
House Budget Chairman Paul Ryan, R-Wis., echoed the same talking point, telling "Fox News Sunday" that "it sounds like the... budgets he has been giving us the last couple of years" and didn't place enough emphasis on spending cuts.
"We will see the details of this budget tomorrow, but it looks to me like that it is going to be very small on spending discipline and a lot of new spending; so-called 'investments,'" Ryan said.
White House officials said the new budget will reduce deficits by a total of $1.1 trillion over the next decade, mainly through a freeze on non-securty defense spending for five years and cuts in domestic programs like community development block grants and in heating assistance for low-income people.
Though not insignificant, the cuts are small compared to the $12 trillion in deficits that congressional analysts predict over the next decade if Congress doesn't change any current policies.

---
MORE FROM NATIONAL JOURNAL:
After the Revolution, What's Next?
Few Steps Forward for Presidential Hopefuls
Clemens Subpoenas House Oversight Committee
---
="">
"The president is elected to lead and to face the country's biggest challenges," Ryan continued. "The biggest challenge domestically speaking -- no doubt about it -- is this debt crisis, and I am really hoping that he is going to give us a budget that tackles this debt crisis."
The biggest saving in the White House plan would come from the five-year freeze on domestic spending, which it estimates would save $400 billion through 2021. The president also hopes to cut $78 billion from the Pentagon spending through cuts that Defense Secretary Robert Gates proposed earlier this year. A cut in the Low Income Home Energy Assistance Program would save about $2.5 billion.
Ryan and other Republicans have been critical of the freeze, claiming it simply locks in spending at already inflated levels.
"This discretionary freeze is off an extremely high base," Ryan said. "They just blew spending out of the gates; a 24 percent increase in domestic discretionary spending over the last two years, when you throw the stimulus on that it was an 84 percent increase, and he wants to freeze for a few years off of those high levels. It is less than 1 percent of spending over the next 10 years."
Office of Management and Budget Director Jacob Lew, on CNN's "State of the Union," called the budget "a down payment" on bringing down the deficit, which the Congressional Budget Office predicts will hit $1.5 trillion, or 9.8 percent of gross domestic product, in the 2011 fiscal year, which ends on September 30.
"We were on a path where the deficit was growing to over 10 percent of our economy," Lew said. The president "has put forward a plan that will bring it down by the middle of the decade to a sustainable level."
He said the budget tries to strike a balance between ]spending cuts and new investment in programs to shore up "competitiveness" and create jobs.
The proposal will also call for raising taxes, including a repeal of $46.2 billion in subsidies for oil, natural gas and coal companies over the next 10 years. That money would go to finance renewable energy development.
The budget also would offset the cost of a two-year patch for the alternative minimum tax, which threatens to hit middle-income taxpayers, by limiting the value of itemized deductions such as charitable contributions and mortgage interest for wealthy households.
Another proposal would cover higher Medicare payments to doctors by cutting $62 billion from other areas of federal health spending.
"Last year he gave us a $2 trillion tax increase," Ryan said. "He got $700 billion of those tax increases enacted mostly through his health care law. It looks like he is coming back for another [roughly] $1.3 trillion."
ENTITLEMENTS
The White House is not expected to propose a reform of entitlement programs, or any recommendations on that front from Obama's deficit reduction commission.
Lew said that White House does partially address Medicare by offsetting the cost of higher Medicare payments to doctors, which takes it off the "national credit card."
On Social Security, Lew stressed that the program is funded through dedicate taxes and is currently not contributing to the deficit.
"Social Security is a separate issue; we have an obligation to make sure that Social Security is sound for this generation and the next generation and the president has said he wants to work on a bipartisan basis to deal with Social Security," Lew said.
Boehner said he believes that the House GOP budget resolution, which will likely be unveiled in April, could include some kind of entitlement reform.
"You'll see our budget, where I've got to believe we are going to deal with the entitlement problem," Boehner said.
Ryan said that he first needs to hear from the GOP caucus on and determine what to include and pass. There are dozens of House GOP freshmen who are fixated on making good on a campaign promise to cut spending are expected to push for entitlement reform. But there could be resistance from more pragmatic members of the party.
"As the Budget chairman, I have to get a consensus with my conference," Ryan said.  "We have 87 new people and quite frankly I want to hear the prospective of these new members because they come from great and diverse backgrounds around the country.
Ryan last year offered a deficit reduction plan, which includes a provision to turn Medicare into a voucher program, but Republicans leaders have not given the plan their full throated support.
FISCAL 2011 SPENDING
Meanwhile, House Republicans were preparing for a tense debate expected to last three days beginning Tuesday over a plan to cut about $60 billion from current spending levels over the rest of the fiscal year -- a move which Democrats have said will defund important programs and bring the economy to a screeching halt.
The GOP plan would replace the current continuing resolution, which expires March 4. If GOP-controlled House can't reach agreement with the Democratic-controlled Senate on a short-term spending bill by that deadline, the government would shut down.
Boehner on Sunday would not say that shut down was out of the question, but said it was not a desired outcome.
"Our goal is to reduce spending it is not to shutdown the government," he said.
The House GOP plan, unveiled Friday night, amounts to a $100 billion cut in discretionary spending compared with what Obama had proposed for fiscal 2011. Because Congress never acted on Obama's budget, the actual cuts from current spending would be closer to about $60 billion.
The House Appropriations Committee initially proposed a plan that would cut only about $35 billion from current spending this year, but conservative members of the party demanded more an House GOP leaders hastily came out with a revised plan on Friday evening.
"We believe we have met our commitment" to cut $100 billion, Boehner said.
Asked if the cuts would hamstring the economy,  Boehner said no.
"We're broke. What is really dangerous if we continue to do nothing and allow the status quo to stay in place," Boehner said.
On Saturday, House Appropriations Committee ranking member Norm Dicks, D-Wash., put out a statement railing against one propose cut that would eliminate a $75 million program that offers housing vouchers to homeless veterans.
"The fact that this absolutely critical program was placed on a list of expenditures to be terminated in the Republican budget is indicative of how thoughtless and insensitive the process became after the most conservative members demanded further cuts in a budget that would already have caused tremendous harm and dislocation throughout the country," Dicks said. "As long as there are veterans sleeping in shelters, cars, under bridges, and on the streets, we have an obligation to continue to increase this voucher program."
Thumbnail image credit: AP Photo/NBC, William B. Plowman