Rep. Frank Wolf on Pushing for Reform in Egypt
Congressman Frank Wolf, the Virginia Republican who introduced a resolution criticizing Egypt in early 2009, says he's had a hard time raising concerns about Hosni Mubarak's regime.
"We've had problems all the time with the State Department," says Wolf of pressing the executive branch on the human rights records of Egypt and other countries such as China. "You write 'em a letter, and..."
As a longtime member of the House Appropriations Committee, which has jurisdiction over foreign-aid bills, and co-chairman of the Tom Lantos Human Rights Commission, Wolf's main concerns are persecution of religious minorities and the massive amounts of aid the U.S. sends to Egypt, which is second-largest to Israel among recipients of U.S. dollars.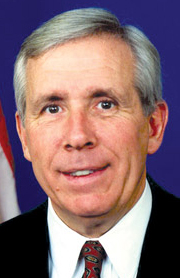 "If you're a Coptic Christian in Egypt, you have a hard time getting a job with the government, you have a hard time moving up in the military," said Wolf, a Presbyterian. "If you're a Baha'i, you can't even really get a driver's license, because on your ID you're either a Muslim or a Christian."
Two weeks ago, as unrest spread across Egypt, Wolf introduced a bill to protect religious minorities in the Middle East and South Central Asia. In February 2009, he introduced a bill calling for free and fair elections and an end to Mubarak's emergency law in Egypt. That bill detailed Egyptian human-rights abuses including the imprisonment of journalists and human-rights activists, the decline of religious freedom conditions, the prohibition of Baha'i institutions, and the practice of torture.
Wolf, who has been to Egypt on two substantive trips, recalls a visit in 1998, when he encountered resistance from Egyptians who were invited by the U.S. embassy to a meeting at a diplomat's house.
"I went to Egypt, I had a bill in to create the American Religious Freedom Commission," Wolf said. "We had a large group of Coptic Christians there tell me that my bill was bad...[but] about five or six came up to me as I was leaving, and said, 'Thanks for what you're doing.' ...
"That was a pretty eye-opening trip," Wolf said. "Here you have a group telling me everything's fine, and then the very same people tell me it's not fine, keep this moving."
Wolf implied that the U.S. embassy in Egypt isn't doing enough to stand up for religious freedom and press Mubarak's government for reform.
"We've tried with American ambassadors over the years...Our embassy ought to be an island of freedom, whereby if you come to the embassy you need to feel you've come to an island of freedom, and that has not been the case."
The State Department could not be reached for comment.