Picture of the Day: David Wu in a Tiger Suit
Things got a bit weird for Oregon Democrat David Wu last October: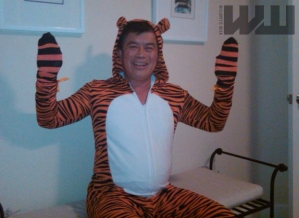 Wu's behavior became erratic during his 6th re-election campaign and included more than one loud, angry outburst, the Willamette Week reported last week. His advisers staged two "interventions," and staff sought to keep him from the public eye in the last three days before Election Day. Wu was urged to seek psychiatric care.
Using his congressional BlackBerry, Wu sent the above photo (sans message) to a female staffer at 1:03 a.m. PST on Oct. 30. It was first published by the Willamette Week.
Wu, who in addition to being a lawyer, attended Harvard Medical School, explained his behavior by saying he accepted painkillers -- two tablets -- from a political donor while traveling after finding he'd left his own medication for neck pain in Washington, D.C. A single father, Wu also says he was under duress caring for his two daughters and 88-year-old mother. He has since sought mental-health care and medication, he told George Stephanopoulos Tuesday on "Good Morning America."