Obama Asks for 'Adult Conversation' on the Budget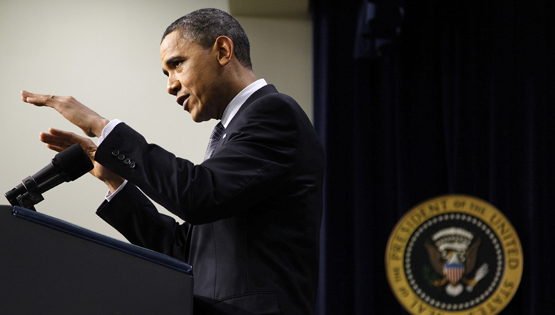 President Obama at his press conference at the White House on Tuesday. credit: AP Photo/Evan Vucci
President Obama failed to hide his frustrations over attacks on his budget decisions in a press conference on Tuesday, calling for patience as he tries to tackle long-term deficits and appealing to Republicans to join him in an "adult conversation" to resolve their difference on spending and forestall a crisis on entitlements. On almost every domestic issue raised by reporters, the president was under assault, complaining at one point that Washington is too "impatient" and admitting at another point to being frustrated. Obama seemed far more confident in dealing with foreign policy questions. Repeatedly, he easily deflected challenges to his handling of the revolution in Egypt. "We got it about right," he declared. And, "We were on the right side of history." He encouraged an orderly transition to democracy and warned against a "chaotic" process.
---
MORE FROM NATIONAL JOURNAL:
Obama Honors Presidential Medal of Freedom Recipients
What Could You Do With $3.73 Trillion?
Let the Big Dollars Roll
---
He spoke firmly and confidently about the ramifications for the rest of the Middle East, balancing the goal of stability in the region with American championing of human rights. It was much harder for the president to find the balance between cuts and spending on the budget he released on Monday, and the balance between his own party's demand for social spending and the opposition party's cries for deeper cuts. It was a choice he cast as between a scalpel and a machete. The key line of the press conference may have been his appeal for an "adult conversation" on spending and entitlements. It reflected White House interest in comments made the day before by House Majority Leader Eric Cantor, R-Va., who promised that the Republican budget put forth in the House would tackle entitlement reform. For his part, Obama said that his budget had deliberately sidestepped those questions so they could be dealt with in a bipartisan manner from the start. The White House was intrigued by Cantor's statement as a sign of Republican willingness to go beyond a narrow focus on spending cuts. But reading GOP intent was complicated by later comments by House Budget Committee Chairman Paul Ryan, who seemed less committed to the inclusion of entitlement reform in the budget. The president used the press conference to try to send his own signal that he is ready to work with Cantor, saying he was "glad" to see the Virginia Republican's remarks. "I think that's progress, because what we had been hearing made it sound as if we just slashed deeper on education or, you know, other provisions in domestic spending that somehow that alone was going to solve the problem," he said. "So I welcomed -- I thought it was significant progress that there is an interest on all sides on those issues." The president left no doubt in his press conference, though, that he intends to be extraordinarily cautious in entering that entitlement fray and seemed quite content to put it off for a future day. There will not be, as he said, "an Obama plan." "If you look at the history of how these deals get done, typically, it is not because there is an Obama plan out there," he said. "It is because Democrats and Republicans are both committed to tackling this issue in a serious way." Pressed on why he was not doing more, he complained, "You guys are pretty impatient. If something doesn't happen today, the assumption is that it isn't going to happen." He then noted that the Egyptian ouster of Hosni Mubarak took some time to play out. He was also clearly on the defensive when pressed on the cuts he has called for in Pell Grants, community service grants and the Low Income Home Energy Assistance Program, a cut first unearthed by National Journal. He tried to have it both ways, boasting that he had earlier increased spending on Pell Grants and LIHEAP. But now, he said, "We're in a budget crunch" and cuts are justified even if they do hurt some people. The question and the press conference nicely captured the political dilemma Obama finds himself in as he was whipsawed between accusations that he was ignoring the deficit and complaints that he is proposing cuts that will hurt common people. The usually explanatory--some would jibe, professorial--president even tried to signal that he understands that he hurt right along with Americans in this difficult economy. "I definitely feel folks' pain," he protested, adding, that when he reads the 10 letters his staff selects for him each day from Americans who are suffering he feels like a "case worker." "Sometimes I'm also just frustrated by the number of people out there who are struggling and you want to help every single one individually," Obama said. For a Democratic president it is never a good sign politically to have to insist that you have empathy. Thumbnail image credit: AP Photo/Evan Vucci