New South Wins as Democrats Choose N.C. for 2012 Convention
Barack Obama won North Carolina in 2008, and hopes to again.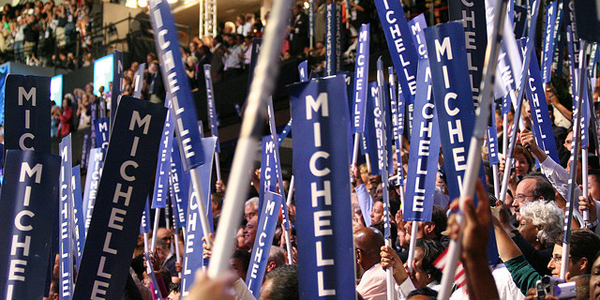 If you're in or covering politics, get ready to head south for the dog days of summer in 2012.
The Republican and Democratic Parties have chosen two of the leading states in the New South for their annual nominating conventions.
Democrats announced today that they have settled on North Carolina, a state President Obama won 50 percent to 49 percent in 2008, as the site from which to launch their general election campaign.
"Barack and I spent a lot of time in North Carolina during the campaign -- from the Atlantic Coast to the Research Triangle to the Smoky Mountains and everywhere in between," wrote first lady Michelle Obama in an e-mail Tuesday announcing the selection of Charlotte. "Barack enjoyed Asheville so much when he spent several days preparing for the second Presidential debate that our family vacationed there in 2009. And my very first trip outside of Washington as first lady was to Fort Bragg, where I started my effort to do all we can to help our heroic military families."
"All the contending cities were places that Barack and I have grown to know and love, so it was a hard choice. But we are thrilled to be bringing the convention to Charlotte," she said. She also pointed to the great barbecue to be found in the city -- one of the few times she's moved off her message that Americans should eat more vegetables to praise a beloved American meat treatment.
The convention will be held the week of September 3rd, 2012. (When average high temperatures are expected to be
in the low 80s
.)
The Republican Convention, for its part, will be held in Tampa, Fla., in August, the party
announced last May.
(Average high temperatures there are 90 degrees that time of year.)
Obama was the first president since Jimmy Carter to win North Carolina, and this will be the first presidential nominating convention to be held in the state. The other cities vying to hold the convention were: Minneapolis, Minn., St. Louis, Mo. and Cleveland, Ohio.
The North Carolina Republican Party issued a video in response to the announcement: