Newly elected governors Rick Scott of Florida, Scott Walker of Wisconsin, and John Kasich of Ohio are all battling to slash state budgets.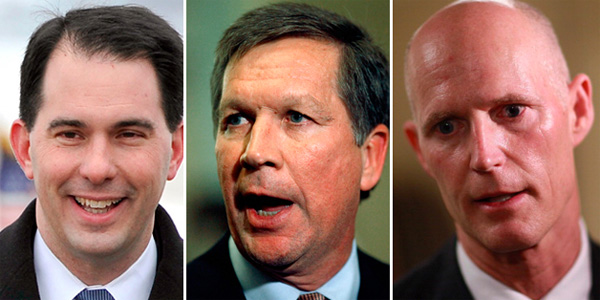 One is a bald, blue-eyed former hospital executive brand new to public office. Another is a career politician who leads statewide motorcycle tours to boost tourism. And the other is a former congressman and FOX News host who called a cop who gave him a traffic ticket last month an "idiot.''
All three are newly elected Republican governors facing massive political upheaval over their slash-and-burn approach to state spending and rejection of billions of federal dollars for high-speed rail projects.
Call them the "Three Scrooges": Rick Scott of Florida, Scott Walker of Wisconsin, and John Kasich of Ohio. Walker and Kasich replaced Democrats, and Scott replaced a Republican-turned-independent.
"In each case, you're experiencing the difference between politics in theory and politics in practice, and I think you're going to see more of it,'' said Republican strategist Susie Wiles, who engineered Scott's 2010 campaign. "The reality for states is that they have to balance their budgets, and there is a finite number of ways to do it.... You've got to take the medicine.''
---
MORE FROM NATIONAL JOURNAL:
Clinton's Moment?
How I Went From Bush Loyalist to Critic
Palin Picks Fight With First Lady
---
="">
The three governors sit at the center of a nationwide debate that pits a tea party movement threatening to mow down any tax-and-spenders in its path against labor unions and advocates for children, the elderly, and the poor. In a sign of the anti-establishment movement's influence, Scott unveiled his bare-bones budget earlier this month at a tea party rally, breaking with the tradition of formal announcements in the state capitol.
In another sign of the blurring of lines between campaigning and governing, Kasich has been Tweeting encouragement to his compatriots in Florida and Wisconsin. "Kudos to @FLGovScott for siding w/taxpayers & saying no to wasteful passenger rail,'' he wrote Wednesday. "Props to @GovWalker for new reforms to public employee unions that give taxpayers more rights,'' he added Thursday. Walker called Kasich earlier this week to "commiserate," his staff confirmed.
Whether the three governors from key political battleground states succeed could have implications for the 2012 election, when voters will decide whether the newly empowered GOP improved the nation's fiscal health or cut too close to the bone. With 18 of the 23 winning Republican candidates for governor in 2010 in their first terms, they are largely charting new terrain.
"I think what you're seeing is Republican governors willing to take on the tough issues in their states to balance their budgets, while the president is punting,'' said Michael Schrimpf, spokesman for the Republican Governors Association. "It's quite a clear contrast for voters looking for a chief executive who will make decisions about solving unsustainable spending.''
No wonder the state-level budget battles have gone national.
President Obama lent the Democratic Party machine's support to the thousands of protesters storming the capitol in Madison this week and called Walker's proposal to strip collective-bargaining rights from public employees an "assault on unions.'' In response, House Speaker John Boehner, R-Ohio, released a statement in Walker's defense.
"Republicans in Congress--and reform-minded GOP governors like Scott Walker, John Kasich, and Chris Christie [of New Jersey]--are daring to speak the truth about the dire fiscal challenges Americans face at all levels of government, and daring to commit themselves to solutions that will liberate our economy and help put our citizens on a path to prosperity,'' Boehner said. "I'm disappointed that instead of providing similar leadership from the White House, the president has chosen to attack leaders such as Governor Walker, who are listening to the people and confronting problems that have been neglected for years at the expense of jobs and economic growth.''
Former Republican Govs. Tim Pawlenty of Minnesota and Jeb Bush of Florida, potential presidential candidates in 2012 and 2016, entered the fray on Friday. "The nation's governors don't need a lecture from a president who has never balanced a budget,'' Pawlenty snapped. "Stay strong @Gov Walker,'' said a particularly chatty Bush in one of five consecutive Twitter posts on the Wisconsin protests.
Wiles explained the national interest in Madison this way: "When a Republican at any level succeeds, it helps the brand.''
Wisconsin has been at center stage as thousands of civil service employees rallied in the capitol against legislation that would force them to pay more for health and pension benefits. Democratic state senators went so far as to leave the state to avoid voting on the plan, which Walker says is necessary to help close a $137 million budget gap.
The protests have shut down school districts and some state agencies.
"I think the body politic is going to reject this,'' said Graeme Zielinski, spokesman for  the Wisconsin Democratic Party. "This is an unchecked power grab.... Reducing the quality of life of the middle class is going to continue to make people respond here and across the country.''
Ohio has also seen massive protests in the capitol over a similar proposal to limit collective-bargaining rights.
And in Florida, Scott faced a mini-rebellion from members of his own party this week when he joined Walker and Kasich in turning federal money down for high-speed rail. A veto-proof majority of the Florida Senate rebuked Scott in a letter that urged the federal government to give the state the money anyway, saying: "Politics should have no place in the future of Florida's transportation.''
Coming to Scott's defense were tea party activists, who plan to target the 26 senators who signed the letter.
Images: Getty Images.