Huckabee Leads Latest GOP Presidential Poll
Mike Huckabee ranks atop the GOP presidential field, according to the latest 2012 poll, released Friday afternoon by Fox News.
Fox didn't ask Republicans whom they'd vote for; rather, it asked whether respondents thought the potential candidate in question would make a good president.
Mitt Romney, Newt Gingrich, and Sarah Palin followed Huckabee. No GOP candidate was thought to make a good president by more than 50 percent of all respondents (including Democrats, Republicans, and independents). Find the list below: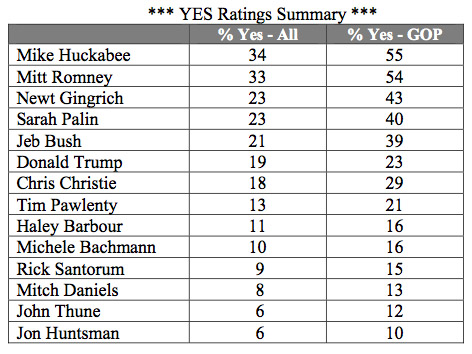 Directed by Democratic polling firm Anderson Robbins Research and Republican firm Shaw & Company Research, Fox polled 911 registered voters, total, Feb. 7-9. Margin of error was +/- 3 percent. Fox interviewed 345 Republicans; margin of error among Republicans was +/- 5 percent.