Democrats Line Up Outside Money for 2012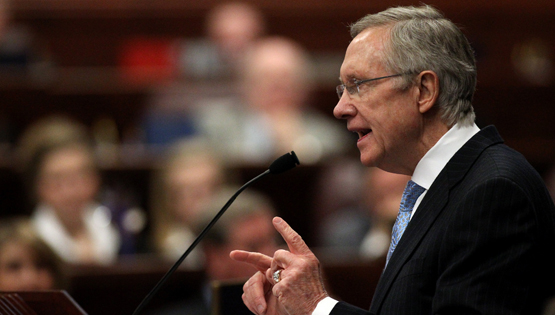 credit: AP Photo/Cathleen Allison
In the wake of a midterm dominated by conservative independent spending, Democrats and their allies have a new rallying cry: The gloves are off.
Democrats are organizing new independent, non-party campaign committees to pour big money into the White House and Senate contests, and a House-focused outside group might be next. At least one of the new groups will run a nonprofit that operates outside the disclosure rules--despite attacks by President Obama and congressional Democrats on such "shadowy," little-regulated campaign organizations last year.
The White House independent expenditure committee will roll out in the near future, sources say. There's talk that it will be headed by former White House aides Bill Burton and Sean Sweeney. When he left as deputy White House press secretary earlier this month, Burton fueled speculation when he announced that he would be setting up a firm with Sweeney "focused on political and strategic consulting."

---
MORE FROM NATIONAL JOURNAL:
Does Qaddafi Care About His Golden Parachute?
Vote Rankings Show Congress, President Moving Apart
Poll: Palin Losing Support in Iowa
---
="">
Senate Democrats fighting hard to retain their majority in 2012 will get outside help from a new political action committee, dubbed Majority PAC, run by a star-studded cast of veteran Democratic operatives.
That group will function as a so-called Super PAC, a new breed of campaign committee that may collect unlimited direct corporate and union contributions, but must fully disclose to the Federal Election Commission.
The Supreme Court's Citizens United v. FEC ruling helped clear the way for such super-PACs last year. Importantly, Majority PAC will operate in tandem with a non-profit, 501(c)4 issue group, enabling big donors to make contributions in secret--another strategy facilitated by Citizens United.
"We need to have every tool available to us this cycle, given the backdrop that we're facing," said lead Majority PAC organizer Susan McCue, former chief of staff for Senate Majority Leader Harry Reid, D-Nev.
Other organizers include former Reid advisers Rebecca Lambe and Craig Varoga, whose Patriot Majority PAC helped Reid beat back a tough Senate challenge last year. Also on board are J.B. Poersch and Jim Jordan, both former executive directors of the Democratic Senatorial Campaign Committee, and Monica Dixon, an erstwhile aide to former Vice President Al Gore.
McCue is not the only Democratic organizer who argues that it's time to fight fire with fire. Another new progressive Super PAC, set up by Media Matters founder David Brock and by former Maryland Lt. Gov. Kathleen Kennedy Townsend, is also mulling an affiliated nonprofit.
Known as American Bridge, the group will be "a counterweight" to big corporate spenders such as the billionaire Koch brothers, and to the American Crossroads operation masterminded by GOP operatives Karl Rove and Ed Gillespie, said spokesman Chris Harris.
"Quite frankly, we were outmanned in the 2010 midterm, and we can't allow that to happen again," said Harris. "It's time for folks on our side to get off the mat and really take Karl Rove and American Crossroads head on."
Not all Democrats agree. Former Sen. Russ Feingold, D-Wis., has just set up a new PAC dubbed Progressives United that will pointedly take only contributions that are subject to both disclosure rules and contribution limits. Feingold's group will fight to overturn Citizens United, weigh in on legislative fights, and support pro-reform candidates at the federal and state level.
"I want our organization to signify that you can still be effective by limiting contributions," said Feingold. But while he deplores undisclosed spending, Feingold added that he's "certainly not going to condemn it as immoral, given that the other side is fully exploiting this Citizens United ruling by the Supreme Court."
One of the left's most successful activist groups, MoveOn.org, announced long ago that it would operate as a fully regulated PAC, and run virtually all its operations out in the open. MoveOn.org is one of dozens of progressive groups that has cashed in on the recent uproar over labor union collective bargaining rights that's disrupted statehouses in Wisconsin and elsewhere. When MoveOn.org set out to organize rallies in all 50 states this past weekend, the group asked its 5 million members to help underwrite the effort--and raised $500,000 in 18 hours.
"Is there a role for progressive people who want to get involved and spend a lot of money? Absolutely," said MoveOn.org Executive Director Justin Ruben. "Do I think they should spend it in a way that's transparent? Yes. Because they have nothing to hide."
Democrats pushing the campaign finance envelope may well argue that attacks on big money haven't earned them many points with voters. During his White House bid, President Obama rejected donations from PACs and lobbyists, and instructed the Democratic National Committee to do the same. DNC officials recently announced they would extend that ban to the party's 2012 national convention in Charlotte, N.C., which will also take no corporate donations. That announcement earned applause from watchdog groups such as Democracy 21, but otherwise fell flat.
"The Democrats are not going to give the Republicans another free ride in spending outside money," said Fred Wertheimer, president of Democracy 21. "The barn door has been opened. And as long as the current rules prevail, we can expect substantial Democratic-favored outside spending in the 2012 presidential and congressional races."
This article appeared in the Monday, February 28, 2011 edition of National Journal Daily.
Drop-down bar photo credit: AP Photo/Cathleen Allison