Congress Killed Multiple Bills Criticizing Egypt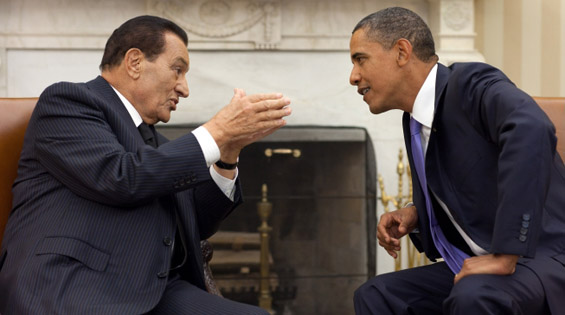 President Obama and Egyptian President Hosni Mubarak at a public appearance. Photo credit: White House
In the past two years, at least three lawmakers have introduced non-binding bills calling for political reform in Egypt. Each bill died in committee without a vote.
The Cable's Josh Rogin reported this week that a Senate bill introduced by John McCain and former Sen. Russ Feingold (D-Wisc.) was killed late last year by two anonymous Democrats, who placed holds on it.
That bill had called on President Hosni Mubarak to end his emergency law and for Egypt to take steps toward free and fair elections. It also called on Egypt to end torture and "arbitrary detentions" of journalists and human-rights activists.
Former House Speaker-elect Bob Livingston (R), one of Egypt's lobbyists, had personally lobbied against the resolution. It was modified after two senators--Dianne Feinstein (D-Calif.) and Roger Wicker (R-Miss.)--sought changes, but two Democrats still anonymously ended its prospects.
A House resolution, introduced by Rep. Frank Wolf (R-Va.), went even further in criticizing President Hosni Mubarak's regime. It never saw a vote in the House Foreign Affairs Committee, then chaired by Rep. Howard Berman (D-Calif.), after Wolf introduced it in February 2009.
While the Senate bill was updated after President Obama traveled to Cairo to make his debut to the Muslim world, a location choice that bestowed implicit praise on the U.S. ally, Wolf's House bill (text here) was not.
It detailed Egyptian human-rights abuses, also calling on Mubarak to end his emergency law. Some highlights:
Whereas the Egyptian authorities have promised to put an end to the imprisonment of journalists and bloggers, but this promise has so far gone unfulfilled;

Whereas in its 2008 annual international religious freedom report, the United States Department of State concluded that religious freedom conditions declined in Egypt and the United States Commission on International Religious Freedom continues to place Egypt on its watch list due to serious problems of discrimination and intolerance; ...

Whereas Shiites, Koranists, Jehovah's Witnesses, and other religious minorities are harassed, arrested, and imprisoned by security services;

Whereas all Baha'i institutions and community activities have been banned in Egypt since 1960, and members of the Baha'i faith continue to face discrimination when applying for government issued documents;

Whereas material vilifying Jews appears regularly in the state controlled and semi official media; ...

(2) calls on the Egyptian Government to end all forms of harassment, including judicial measures, the detention of media professionals and, more generally, human rights defenders and activists calling for reforms and to fully respect freedom of expression, in conformity with article 19 of the United Nations International Covenant on Civil and Political Rights; ...

(7) calls on the Egyptian Government for--

                  (A) the immediate and unconditional release of Abdel Karim Suleiman and all other political prisoners and democracy activists;

                  (B) an end to the harassment of the Koranists; and

                  (C) a repeal of the 1960 presidential decree banning members of the Baha'i community from practicing their faith; ...

(10) supports the concluding observations of the United Nations Committee on Migrant Workers of May 2007, which called for the re-opening of the investigations into the killing of 27 Sudanese asylum-seekers in December 2005;

            (11) calls for an immediate end to Egypt's `shoot to stop' border policy which has left at least 32 African migrants, including women and children, dead;

            (12) calls for an end to all forms of torture and ill treatment and calls for investigations when there is reasonable suspicion that acts of torture have occurred;

            (13) calls on the Egyptian Government to allow--

                  (A) a visit by the United Nations Special Rapporteur on torture and other cruel, inhuman, or degrading treatment or punishment; and

                  (B) a visit by the United Nations Special Rapporteur on freedom of religion or belief; ...

That bill garnered support from 39 cosponsors, including some of the most liberal and conservative House members. Rep. Ileana Ros-Lehtinen, the Republican ranking member of the House Foreign Affairs Committee, signed on.
Nonetheless, it died in the committee without a vote. Berman did not sign his name in support.
The Foreign Affairs Committee killed yet another bill in 2009--one to prohibit U.S. military aid to Egypt, which is the second-largest recipient of such aid after Israel.
The Egyptian Counterterrorism and Political Reform Act, introduced in January of that year by liberal firebrand Anthony Weiner (D-N.Y.), garnered no cosponsors and also petered out in Berman's committee without a vote. That bill would have required U.S. presidents to certify that Egyptian military aid is in America's national-security interest. Otherwise, only economic aid should be given.
Many, many bills get introduced and die out in committee, but it's noteworthy that members of Congress tried to voice serious criticism of Egypt two years ago.
Both House bills were introduced just months before Obama traveled to Cairo for his Muslim-world speech, and, had the committee voted on them, the timing would have been awkward. It would have embarrassed Obama (and Egypt), had a Democrat-controlled committee aired such detailed complaints.
Obama announced in May 2009 that Cairo would be the location of his speech that June. The bills were introduced in January and February. It typically takes months for legislation to make its way through a committee.
The introductions of these bills at the beginning of 2009, however, show that Egyptian human-rights abuses were on the radar of both Republicans and Democrats, well before the present wave of unrest, and before Obama chose Cairo as the site of his entree to the Muslim world.
The House Foreign Affairs Committee was not immediately available for comment on why it held no votes on these bills.
Thumbnail photo credit from drop-down bar: Getty Images