Tragedy in Arizona: The Shooting of Congresswoman Gabrielle Giffords
A roundup of The Atlantic's breaking news, analysis, and opinion aggregation as the story of Rep. Gabrielle Giffords's shooting develops
In a shocking attack in Tucson, Arizona, U.S. Congresswoman Gabrielle Giffords and 17 others were shot at a public event on Saturday.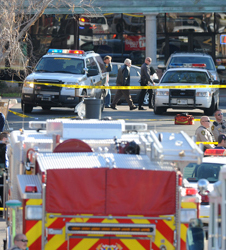 A gunman shot Giffords, federal District Judge John Roll, and others outside a Safeway supermarket where the congresswoman was meeting with constituents, according to news reports. Roll is among six dead.
As the nation reacts to this shooting, it will be parsed and explained. The alleged shooter, identified by AP sources as 22-year-old Jared Lee Loughner, was frustrated with the U.S. government, and the shooting has inevitably resonated with the dark and violent tones that have arisen in domestic politics at times over the past year and a half. Discussion is emerging over how directly this shooting is connected to politics, if at all.
See Andrew Sullivan
for continuous commentary on the shooting, and the rest of The Atlantic's coverage below in reverse-chronological order (timestamps in Eastern):

The Vitriol Will Likely Return
. Don't expect the Arizona shooting to change the momentum of national politics, Charlie Cook warns.
9:28 a.m. Tues. 1/11

Stop the Blame Game
. The media has fallen down on the job, writes National Journal's Josh Kraushaar.
9:11 a.m. Tues. 1/11

A Very Good Question: What Does 'Civility' Mean? Exactly?
A specific question to make the discussion of Giffords's shooting more productive, posed by a reader and parsed by James Fallows.
10:19 p.m. Mon. 1/11

Doctors Noncommittal on Giffords Fully Regaining Faculties
. Full recoveries from this kind of shooting are rare, but doctors say it's possible Gabrielle Giffords will regain her faculties.
5:56 p.m. Mon. 1/10

Obama Joins Long Line of Mourners-in-Chief
. How presidents have handled tragedy, through the years.
5:11 p.m. Mon. 1/10

Tea Party Express: Liberals Exploit Shooting
. One of the nation's more prominent groups sees liberals trying to silence the movement as they blame it for the shooting in Tucson.
4:42 p.m. Mon. 1/10

Data Point: Sources of Violent Political Rhetoric in Recent Years
. What do people mean when they talk about "extreme" political rhetoric? They mean the items on this list.
3:11 p.m. Mon. 1/10

Do We Really Need to Know Why He Did It?
There will always be people like Jared Lee Loughner. The only rhetoric he seems to have been listening to came from his  own head, Megan McArdle writes.
2:57 p.m. Mon. 1/10

Clinton Labels Loughner an 'Extremist' While in Abu Dhabi
. Drawing a vague parallel between the Arab and American worlds, Clinton says, "That's not who we are, that's not who you are."
12:34 p.m. Mon. 1/10

The Tea Party Path to the Presidency Just Got Tougher
. Joshua Green writes: "Whether or not it's fair to blame Jared Lee Loughner's shooting rampage against Rep. Gabrielle Giffords on overheated political rhetoric and violent imagery, the episode will probably mark a turning point in how the media cover politics."
9:59 a.m. Mon. 1/10

Giffords's Husband Thanks Supporters
. Capt. Mark Kelly, a NASA astronaut, releases a statement late Sunday night.
1:12 a.m. Mon. 1/10

Rancor Inevitably Returns
. Politicians came together after the shooting in Arizona, offering conciliatory words and toning down the political rhetoric. Can the somber, friendly mood survive in today's political and media culture?
6:47 p.m. Sun. 1/9


Members Call for Toned Down Rhetoric
. Some members of Congress are blaming the shooting on the right's heated rhetoric. Read what they had to say about the tragedy on Sunday's political talk shows.
4:26 p.m. Sun. 1/9

The Rise of Violent Rhetoric
. Heated rhetoric doesn't make people kill each other, but the right seems to relish martial rhetoric more than the left.
4:31 p.m. Sun. 1/9

A Vote to Honor Giffords
. Instead of voting on health care repeal as planned, the House will vote this week to honor its fallen colleague and the other victims, Majority Leader Eric Cantor announced Sunday.
3:53 p.m. Sun. 1/9

Palinspeak and Violence
. Andrew Sullivan recalls Sarah Palin's penchant for gun metaphors, with an example from her Facebook page.
3:44 p.m. Sun. 1/9

House Briefed on Giffords
. 800 representatives, staff, and family members joined a conference call to hear from congressional leaders, security officials, and a House physician on Giffords, security precautions, and the House schedule for the coming week.
3:33 p.m. Sun. 1/9


Tea Party Group Blames 'Leftist.'
 "The left is coming and will hit us hard on this. We need to push back harder with the simple truth. The shooter was a liberal lunatic," says the founder of Tea Party Nation.
1:49 p.m. Sun. 1/9





Don't Let Judge Roll Die in Vain
. The federal judge had faced threats over an immigration case, and Saturday's tragedy shows that judges need more security.
1:28 p.m. Sun. 1/9

Is Arizona About Politics or Mental Illness?
 Jared Loughner's politics are difficult to parse, and it's far easier to categorize him in psychiatric terms, writes Jeffrey Goldberg. So far, the shooting says more about mental illness and how the mentally ill obtain guns.
12:25 p.m. Sun. 1/9




Members of Congress Advised to Contact Police
. In e-mails from the Capitol Police and the House Sergeant at Arms, congressional offices were advised to take precautions, contact local police, and alert the Sergeant at Arms if they plan to hold public events.
9:06 p.m. Sat. 1/8

Was Shooting of Rep. Giffords Political?
 The Atlantic Wire's Max Fisher rounds up commentary, as the media begins to interpret the tragedy in Tucson. Some see it as a result of political vitriol, while others warn that the left is seeking to politicize the shooting.
8:13 p.m. Sat. 1/8

The Cloudy Logic of 'Political' Shootings
. James Fallows recounts the ambiguous motives of assassins in the modern era. "Assassinations" are political by definition--the victims are targeted because politics made them public figures--but motives don't always mesh with the political issues with which those figures are associated.
7:36 p.m. Sat. 1/8


With Giffords Shooting, a Grim Milestone
. From Alexander Hamilton to John F. Kennedy, America's political leaders have suffered assassinations and attempts that raise questions about politics and society. National Journal's Matthew Cooper places the Giffords shooting in historical context.
5:59 p.m. Sat. 1/8

The Suspect: Jared Lee Loughner
. The suspected gunman, now in custody, is 22 years old. A favorite book is "Mein Kampf"; he posted YouTube videos articulating some deranged views three weeks ago; he maintained a MySpace page, with photos.
5:08 p.m. Sat. 1/8

10 Months Before Shooting, Giffords Was at the Center of Security Concerns
. Amid a wave of threats against lawmakers during the health care debate, the window of Giffords's Tucson office was smashed. That event highlighted a week of fears for lawmakers' security in late March of last year.
3:52 p.m. Sat. 1/8


Thumbnail image credit: freedomtomarry/Flickr
Image in post: Getty Images