The Latest Huntsman 2012 News
I feel compelled to step in and briefly say something about this. Previously here and here.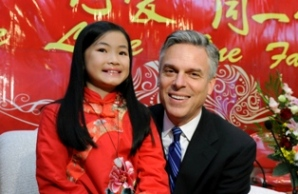 Various sources -- notably Jake Tapper
here
, and Politico
here
-- are reporting that "White House officials" expect Jon Huntsman (right, with one of his daughters) to leave his job as ambassador to China "in the coming months," to consider running against Barack Obama next year.
The "in the coming months" part strikes me as non-news. I believe it was generally understood that the Huntsmans had made a two-year commitment to the job, which would take them through this summer.
The "assumed to be considering a run" part is quite different. I really like Jon Huntsman personally and respect him politically. I continue to think that he was an inspired choice for the job in Beijing. I believe he represents a tenable national future for the Republicans when they are past the Tea Party stage.
But these reports, which he now quite notably has not knocked down, create an impossible situation. If he is seriously planning a run to take the White House away from Obama, how can he continue to serve in the Administration?* How can Obama keep him? Unless, for clever sandbagging purposes, Obama is driving home his closeness to Huntsman, and also delaying the (already late) start to his campaign, to handicap him in the Republican primaries.
When the reports first came up, I laughed them off. But it's striking now that Huntsman has failed to do the same. What I'd like to see -- for the nation's interest, and (in my view, but what do I know?) for Huntsman's -- is for him clearly to put them to rest. Say that of course he's a Republican, and of course he'll support the GOP ticket in 2012. But he's doing the nation's business now in Beijing, and doesn't want to complicate that with all this political gossip. To me as armchair strategist, staying out of the 2012 fray would seem to save him a lot of heartache. Avoiding a primary fight in this bitter season, when he's fresh off Team Obama; and, if he survived that, avoiding a general election battle when  -- one assumes -- the economic cycle should be improving. If that economic assumption is wrong, everything else changes. But if that were the case and Obama seemed gravely weakened, I am not sure that makes a moderate, rather than a red-meat conservative, the most likely Republican candidate.
If Huntsman can't say that, how can he stay? How is the Administration supposed to view the cables they get from him these "next few months"? Or the talks they have with him about Chinese policy on North Korea, the RMB, trade? It would be nice to hear Huntsman himself say, "This is all very flattering, and at the right time, but for now, we have important business here in China...."   Just a thought.
___
* No, an ambassador is usually not a central part of the policy-making apparatus for an administration. As many ambassadors point out, to their annoyance! But China is a special case, given its importance, and Huntsman's prominence there as a Mandarin speaker and political star, and the huge scale of the Beijing embassy, and the range and complexity of issues on which people there operate. It's not like an Honorary Consul job someplace.