Political Insiders Split Over Palin's 'Crosshairs'
National Journal asks political insiders whether Palin's target map was inappropriate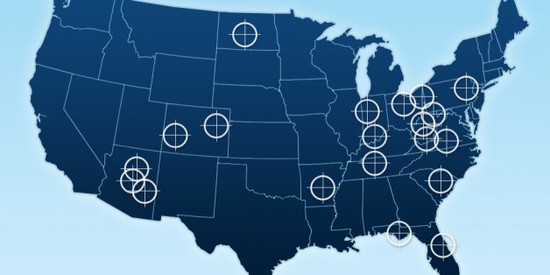 Sarah Palin today sharply denounced media commentary that her brand of fiery political rhetoric had any link to the Arizona shooting on Saturday where Democratic Rep. Gabrielle Giffords was greavely wounded and six others were killed six including a federal judge, a Giffords aide and a nine-year old girl. "Journalists and pundits should not manufacture a blood libel that serves only to incite the very hatred and violence they purport to condemn," said Palin.
---
MORE FROM NATIONAL JOURNAL:
Walled-Off Washington
How to Protect Members of Congress
A Sad City on the Hill
---
That speculation in the media focused on the graphic that appeared on Palin's Facebook page in March when she called for the defeat of 20 Democratic Members of Congress who voted for healthcare reform by placing their districts in what appeared to be the cross-hairs of a rifle scope.
National Journal's Political Insiders Poll asked its participants this week to weigh in on whether the Palin graphic, along with eight other examples from politicians ranging from Barack Obama to Sharron Angle, was "inappropriate political speech." Overall, 44 percent of the 124 Political Insiders who participated in the poll--62 from each party--said that the Palin graphic was inappropriate. However, the Insiders were sharply divided along party lines: 68 percent of the Democratic Insiders said that Palin's graphic had crossed the line, but only 19 percent of the GOP Insiders thought it did.
One GOP Insider said that the graphic was a "normal political metaphor," not unlike the 2010 campaign ad by Sen. Joe Manchin, D-W.Va., in which he says he will take "dead aim" at cap-and-trade legislation and fires a high-powered rifle at a copy of the bill. Several other GOP Insiders agreed with Palin that efforts by reporters and commentators to draw any connection between political speech the actions of gunman Jared Loughner were out of bounds. One Republican Insider said, "The fact that the mainstream media and many liberals are using this shooting by a crazy guy as an excuse to attack conservatives and dissent by conservatives is sad and inappropriate." But another GOP Insider who thought the graphic was inappropriate said, "What's next, a hangman's noose?"
Democrats, who have traditionally been more supportive of gun control, were particularly sensitive political speech that alluded to violence. "The street value of macho political rhetoric should be permanently devalued," said one Democratic Insider who thought the Palin graphic was an example of inappropriate political speech. "Political metaphors using guns or weaponry need to go altogether."
Overall, the Palin graphic was the third most cited example of inappropriate political speech the Insiders. We'll post the results for the rest of the examples tomorrow on our website.