Obama's Arizona Speech: A Low Bar to Clear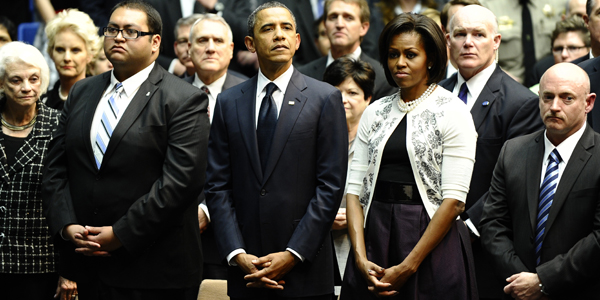 What a horrible story this Arizona shooting story is.
Every day new details emerge that threaten to turn us all into the John Boehners of our offices, misting up over our Twitter feeds. Nine-year-old Christina-Taylor Green will be buried in a special coffin built and blessed by Trappist monks from Peosta, Iowa. Dorwan Stoddard, who was murdered, was the elementary school sweetheart of his wife, Mavy; they reunited after their life-long spouses died. Jared Lee Loughner's father chased him into the desert the morning of the shooting, and then the 22-year-old was pulled over by "a wildlife officer" for running a red light just hours before going on the rampage that killed six and wounded 14. Daniel Hernandez is awesome, a model of youthful composure.
The Tea Party Express is raising money off the tragedy and full of outrage about liberals. Tea Party Nation blames the shooting on liberals, calling Loughner a "leftist lunatic." Sarah Palin makes the story all about her, issuing a video -- with the comment function turned off, natch -- to defend free speech, in which she also accuses her critics of "blood libel." Jewish groups are outraged, and the Nathan Diamant, public policy director of the Orthodox Union of Jewish Congregations of America, says Palin's "response keeps our political and civic discourse in the gutter."
Four Arizona Republicans resigned local party positions out of fear for their lives after the shooting. The Tucson Tea Party leader says threats have made him afraid to go to the Obama speech tonight.
Most of the country does not believe politics were a major factor in the shooting, and a USA Today/Gallup poll reports that 53 percent agree "that commentators who allege conservative rhetoric was responsible were mostly attempting to use the tragedy to make conservatives look bad."
This is a horrible story, sparked by a horrible person who did a horrible thing, and provoking horrible and honorable people alike into saying horrible things.
As Obama gets ready to address the nation, one thing is clear.
The bar for delivering a unifying and healing speech this evening could not be lower.