Michele Bachmann to Deliver SOTU Rebuttal, Too
We thought the speaking lineup for next Tuesday had been finalized, but there's been a late addition. Rep. Michele Bachmann (R-Minn.) will deliver her own response to President Obama's State of the Union address, to be webcast by the group Tea Party Express next Tuesday.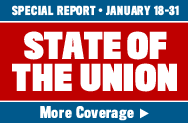 The group announced Bachmann's upcoming remarks in an e-mail to supporters Friday afternoon.
Earlier Friday, Republicans had announced that Wisconsin Rep. Paul Ryan, who chairs the House Budget Committee, would deliver the GOP's response to Obama after the State of the Union address is over. Bachmann's remarks at TeaPartyExpress.org, apparently, will supplement the GOP response with a tea-party perspective.
Bachmann's webcast will follow Ryan's, so tea party Republicans won't have to choose whom to watch.
It's fitting that a tea party group would sponsor its own SOTU response: Obama is slated to focus on reining in the federal deficit, and that's been a prime issue for the tea party movement since it was sparked by opposition to Obama's stimulus and mortgage-rescue plan.
Bachmann, meanwhile, has been a tea party star for the past couple years. She recently hinted that she might run for president ... and a SOTU response has historically been one way to catapult one's status to the level of legitimate presidential or vice-presidential aspirant (when it hasn't destroyed it, that is).
This post was updated at 3:44 p.m. Jan. 21.