Michele Bachmann for President?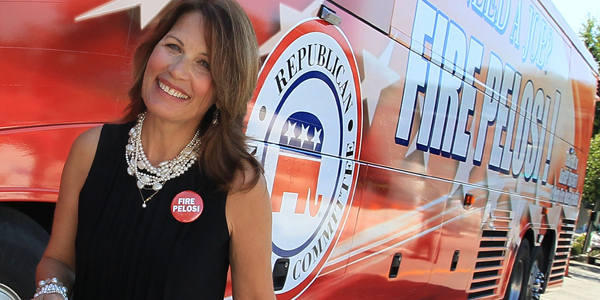 Michele Bachmann is considering a bid for the presidency, her office confirmed Wednesday.
The Minnesota Republican and tea party movement leader will be traveling to Iowa later this month for a fundraiser with a key conservative anti-tax group in Des Moines whose backing can help boost candidates in the state's early Republican contests, such as the Ames Straw Poll, scheduled for this August 13.
"She's taken nothing off the table," Bachmann spokesman Dough Sachtleben said. "She wants to travel and speak to people. We can't have another four years of President Obama."
Bachmann is the founder of the House Tea Party Caucus, which she chairs, and was a leading opponent of President Obama's health-care overhaul, which she protested at rallies in Washington and St. Paul. Her outspoken manner and slick personal style have made her an icon on the right and especially among its new generation of conservative women, but also a figure of fun and derision on the left.
A Bachmann run would seem to compete directly with a run by former GOP vice presidential nominee Sarah Palin, who also has cast herself as a tea party leader and who has a much higher public profile. But Bachmann proved herself a formidable fundraiser in 2010, raising an astonishing $13.2 million for her House reelection bid.
And she has repeatedly sought to increase her profile; after Republicans retook the House, Bachmann briefly entertained a bid for House Republican Conference Chair, the majority party's fourth ranking position.
She will headline an event for the Iowans for Tax Relief political action committee on Jan. 21.
Bachmann's possible bid was first reported by ABC News.
Thumbnail image credit: Getty Images