Little New on Education in Obama's Address
For all of the anticipation among educators that Obama's State of the Union address would place school reform front and center, the speech was surprisingly light on education, largely rehashing past rhetoric and skimming substance. This was strategic--Obama has just a year left to govern before his next election contest and he faces a less-friendly Congress than in 2009, when his address also emphasized education. As Josh Green pointed out, the speech seemed designed to "refocus the nation's attention where Obama would like it to be." Last night was about reminding everyone where he stands, rather than surprising with anything new.
The president tied American education to his message of economic investment, echoing his past calls for using schools as a means to improve international competitiveness. "If we want to win the future," he said, "if we want innovation to produce jobs in America and not overseas--then we also have to win the race to educate our kids."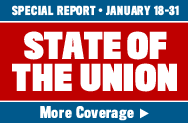 He repeated his goal that America might have the world's highest percentage of college graduates by the end of the decade, briefly nodded to the roles communities and families play for students (the familiar, "make sure the TV is turned off" line), and lent his support to the struggling DREAM Act, which aims to create a path to citizenship for high-performing undocumented students. But despite his attention to education, the policy specifics the president offered seemed vague. For example, in describing the long-delayed reauthorization of the controversial No Child Left Behind Act, the president only called for "a law that is more flexible and focused on what's best for our kids."
Instead of elaborating, Obama took a victory lap, naming the administration's Race to the Top grants, which awarded federal funds to states pledging specific reforms and accountability measures, "the most meaningful reform of our public schools in a generation." While describing Race to the Top, Obama alluded to the Common Core initiative, a bipartisan, state-led effort to create national standards in math and reading. By emphasizing Common Core, Obama played to the increased number of states'-rights conservatives in his audience. "We know what's possible for our children when reform isn't just a top-down mandate, but the work of local teachers and principals; school boards and communities," he said.
Overall, when it came to education, this State of the Union sounded like old news. Obama was heralding the reauthorization of NCLB last year too, and two years ago, he made almost the exact same calls for improved student achievement and international competitiveness. Consider the similarities of these two passages, from Obama's 2009 address to the joint sessions of Congress, and last night's speech:
"In a global economy where the most valuable skill you can sell is your knowledge, a good education is no longer just a pathway to opportunity - it is a pre-requisite. Right now, three-quarters of the fastest-growing occupations require more than a high school diploma. And yet, just over half of our citizens have that level of education. We have one of the highest high school dropout rates of any industrialized nation. And half of the students who begin college never finish. This is a prescription for economic decline, because we know the countries that out-teach us today will out-compete us tomorrow."
And:
"We need to out-innovate, out-educate, and out-build the rest of the world... But if we want to win the future - if we want innovation to produce jobs in America and not overseas - then we also have to win the race to educate our kids. Think about it. Over the next ten years, nearly half of all new jobs will require education that goes beyond a high school degree. And yet, as many as a quarter of our students aren't even finishing high school. The quality of our math and science education lags behind many other nations. America has fallen to 9th in the proportion of young people with a college degree."
The president also repeated past language about the need to "reward good teachers and stop making excuses for bad ones," and made his frequent call for Americans to serve the nation by becoming educators; both lines drew applause. Previously, the "no excuses" line might have worried some as a slight to teachers' unions, but these days, post-Race to the Top, everyone already knows that the president favors accountability for educators. The phrase is less warning than reminder.
Yet despite being short on new substance, the reasons education remains on the agenda are notable, and the need for reform is unchanged. The achievement gap persists, ineffective teachers linger in classrooms across the country, and the rigor of our schools remains far too low. In a divided Congress it will be more difficult to find consensus on those reforms, but too often, political debates move on while concerns endure. The president is right to speak of "investing" in education, which many argue is even more of an economic issue than a social one.
Over at Education Week, my colleague Sara Mead has broken down just what has and hasn't come to pass over the last two years. In his 2009 address, Obama advertised the funding his administration was providing for early-childhood education, teacher incentives, and college affordability. But resources for most of those things were funneled through the American Recovery and Reinvestment Act, which was passed even before the speech, and whose provisions expire this year. And Race to the Top, while unprecedented for spurring state-level policy changes, unearthed only 12 that met contest criteria to win additional funding, and their proposed policy changes have yet to be implemented in many places. Some states are already backing off of promises made in their applications.
The reauthorization of No Child Left Behind represents perhaps the greatest opportunity for the federal government to effect meaningful education reforms on the horizon. While the language in the State of the Union was crafted with a political eye, the blueprint released by the Department of Education last March reveals more about what we can expect from congressional debates over the law's renewal. Questions about the appropriate federal role in education and how best to measure student achievement are sure to arise.
Two years ago, I wrote a piece on this site questioning what the Obama education agenda might look like in practice, and what, if anything, it would change for the millions of teachers on the ground in America's classrooms. It's a vision that still holds promise for our schools and students, but then as now, it's the execution, not the plan, which matters.
Thumbnail image credit: Pete Souza/White House