House Democrats Take It in Stride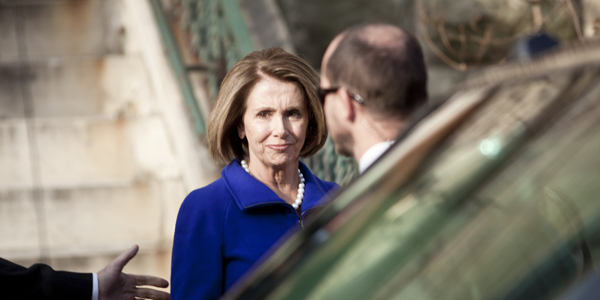 "People don't really care how I feel," a discouraged-looking Barney Frank tells me in the ornate lobby outside the House floor, where politicians new and old to this scene are milling about before the 112th Congress officially gets underway.
"I wish we were in power. I think the public policy goals I like would be better served, but we came in here with the majority, we were in the minority, back to the majority, back again," Frank says. "I'm skeptical now. The Republicans in the House seem to be pretty hard-edged partisans, so I am not optimistic."
There's a lot of that going around among Democrats today: the attitude of, "What can you do?"
For the next 30 minutes or so, the United States does not have a legislature. After the conclusion of the 111th Congress, the 435 representatives were technically kicked out. They don't represent their districts, on paper, until they're sworn back in.
Democrats, one might expect, would prefer to keep it that way. Judging from what they've said about Republicans over the past four years, you'd think they'd prefer no Congress at all to one run by Speaker-elect John Boehner.
But, despite this gloom and fatigue, they seem to be taking it in stride.
"It's my hope and my prayer that we'll be able to work together and come together for the common good," says John Lewis, the civil-rights leader who today will enter his 13th term in the House.
Lewis is trapped outside the House chamber while the other members all bow their heads in silence for the invocation of the new term. I ask Lewis if, given his party's loss of power, this is an invocation he'd rather skip.
"I wish I had been in," he said, smiling, "But it seems to be a pretty long prayer."
The atmosphere in the Speaker's Lobby is collegial as members step in and out of the chamber, their families in tow. Today, when they're sworn in, wives and husbands and well-dressed children accompany them into the chamber as they're sworn in.
A bearded, heavyset congressman carries a baby on his shoulder and remarks to an aide, following at his heel, "It's gonna be a good day." Congressman-elect Chris Gibson of New York, a good-natured veteran of the Army's 82nd Airborne Division, who reclaimed upstate New York's 20th District in November, has a serene grin plastered to his face as he leads his wife out of a packed elevator.
It's hard not to feel a little bit good. Members shake hands and tap each other's shoulders. Minnesota's Keith Ellison wishes Frank a happy New Year. Heath Shuler, one of the most conservative Democrats in Congress, who ran against Nancy Pelosi for the role of majority leader--an affront, in the eyes of some, to her stewardship of the party--gets a pat on the shoulder from Arizona's Raul Grijalva, one of the most liberal Democrats, who has co-led the liberal House Progressive Caucus for the last two years.
Even Shuler, the former Washington Redskins QB from North Carolina, seems ambivalent, pessimistic about partisanship but confident in his relationships with Republicans.
"I have good relationships with everyone," Shuler says, but he points out that things aren't off to a very good start. Republicans have rewritten the House rules, as incoming majorities always do, and they've removed a prized policy of fiscally conservative Democrats, instituted in the last Congress: pay-as-you-go (or Pay-go) rules that require new legislation to be deficit neutral, with new spending and tax cuts offset by spending cuts or tax hikes. Republicans will require new spending to be offset with spending cuts, but tax cuts won't have to be offset.
Shuler says the 112th is starting with the "same partisan games."
After a while, the new Congress gets together in the room, family members in tow. The quorum is called. A cheer goes up.
Welcome to the 112th.