Egypt's High-Powered D.C. Lobbying Ties
Mubarak's government has employed some of the biggest names in the influence game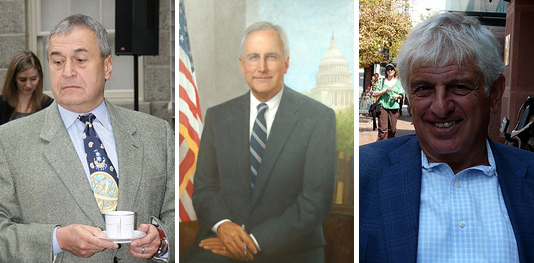 From left to right: Tony Podesta, Bob Livingston, and Toby Moffett. Credit: cliff1066/Flickr, Wikimedia Commons, mickleib/Flickr
Updated 3:20 p.m.
As the world's attention turns to protests and unrest in Egypt, it's worth noting that the U.S. ally employs some of the most powerful and high-profile lobbyists in the District of Columbia.
Since 2007, the government of Egypt has contracted Tony Podesta, president of the Podesta Group and brother of former Bill Clinton chief of staff John Podesta; former representative Bob Livingston (R-La.) of the Livingston Group, who nearly succeeded Newt Gingrich as speaker of the House; and former representative Toby Moffett (D-Conn.), who gives his name to the Moffett Group, where he is chairman.
All remain active agents for Egypt, according to the U.S. Department of Justice. Among the top lobbyists in D.C., the three signed a one-year contract to work for Egypt through their joint venture, the PLM lobbying group, in October 2007. That contract had the option of a one-year extension, and the three went on to register independently as foreign-agent lobbyists for Egypt in March 2009.

(See Podesta's lobbying registration here; see Livingston's here; see Moffett's here. This document outlines the 2007 arrangement with Egypt's government.)
Podesta, especially, is known as one of the most influential lobbyists in Washington. In 2009, he personally accompanied Egyptian military officers on meetings with Sens. Diane Feinstein (D-Calif.) and Daniel Inouye (D-Hawaii), according to lobbying registration documents.
Neither Podesta, Livingston, nor Moffett could be reached immediately for comment on whether they have counseled Egypt's government on the political unrest now unfolding, or how much of the work they have personally handled. As in law firms, it is not uncommon in the lobbying world for a firm's leader to sign a client contract, then delegate responsibilities to less senior individuals.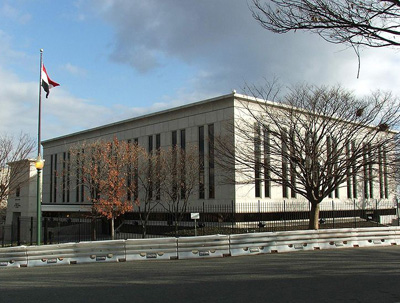 Egypt's embassy in residential Northwest Washington, D.C. Cedit: Wikimedia Commons
When contacted by National Journal, Podesta's office said it directs questions about client work to its clients, as a matter of policy. The Egyptian embassy has not responded to a request for comment.

Egypt agreed to pay them a total of $1.1 million per year to "provide assistance and advice, as requested, to the Embassy in the task of securing and further enhancing the interests of Egypt in the United States in the political, economic, military and other fields," according to the 2007 contract signed by Podesta, Livingston, and Moffett. The three were employed to give Egypt strategic advice, assist with requests for military aid, make contacts with U.S. government officials, assist in Egyptian officials' visits to the U.S., utilize corporate contacts, and work within the U.S. business community's Washington offices to improve Egypt's image for investment. The three were to make reports to Egypt's U.S. Embassy and its Defense office.
The three also signed on to help Egypt with its image. They "should identify, as early as possible, any weakness and/or problem areas in Egypt's image within Congress or the Executive Branch and advise on ways to deal with such areas of concern."

Since Egypt is a U.S. ally, it's not particularly scandalous to find lobbyists working for its government. In Washington, even the most influential foreign governments employ lobbyists to counsel them on dealing with Congress and the U.S. State Department.
That said, as Egypt's practices have come into question as it suppresses protests against President Hosni Mubarak, Egypt's influence in Washington is sure to come in for fresh scrutiny.