Christine O'Donnell: Obama Stole His Lines From Tea Partiers
Former Republican Senate candidate and tea party phenom Christine O'Donnell says she agreed with "a lot" of the State of the Union address Tuesday night--but, she said, that's only because President Obama's most effective messages were taken straight from the tea party playbook.
"There were a lot of things I liked," she said on ABC's "Good Morning America" today. "But those catchphrases sounded familiar because [Obama] took them straight from tea party candidates... For example, 'We have to spend within our means.' That's something that many candidates, including myself, said on the campaign trail several times.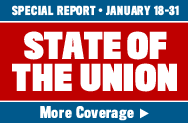 "It's like he was using tea party sound bites to announce more big government spending programs," she continued.
Though Obama never actually used the phrase, "We have to spend within our means," he did say "We have to confront the fact that our government spends more than it takes in." And while O'Donnell said it was her primary point of praise, other Republicans found his remarks on the deficit vague, including former New York Mayor and 2008 presidential candidate Rudy Giuliani, who said on NBC's "Today" show that Obama "missed a great opportunity to take the deficit more seriously."

---
MORE FROM NATIONAL JOURNAL:
WHere Are the Jobs?
The Right Speech, Two Years Late
Obama's Opening Argument for 2012
---
="">
In the tea party counter-speech that followed the State of the Union, Rep. Michele Bachmann, R-Minn., also alluded to that sentiment --but did not actually say it: "After the $700 billion bailout, the trillion-dollar stimulus, and the $410 billion spending bill with over 9,000 earmarks," she said, "many of you implored Washington to please stop spending money we don't have."
The Tea Party Express, which sponsored Bachmann's response, played a key role in skyrocketing O'Donnell to her unlikely primary victory last year. Though ultimately unsuccessful against Sen. Chris Coons, D-Del., she has since filed paperwork to organize her own political action committee, "Christine PAC."
As for the bipartisan message being pushed in the State of the Union address, don't expect O'Donnell to acquiesce. She wasn't a fan of the joint session of Congress' bipartisan seating arrangement on Tuesday.
"I like it when the Democrats sit on one side and the Republicans sit on another," she said. "It's supposed to be a civil debate; we're not supposed to braid each others' hair and sing 'kumbaya.'"