A New Press Secretary, Two New Deputies at the White House
President Obama will name two new deputy chiefs of staff and a new press secretary this week, capping a three-stage reorganization of his inner circle that began last November with an overhaul of his economic team.
The two deputies are health care expert Nancy-Ann DeParle and White House scheduler Alyssa Mastromonaco. Their appointments were previously reported by National Journal. Jay Carney, the spokesman for Vice President Joe Biden, will be the new White House press secretary replacing Robert Gibbs. The Carney appointment was first reported by the Associated Press, although it had been widely hinted at for some time.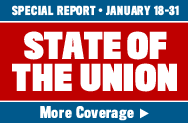 Mastromonaco will become deputy chief of staff for operations, a position with a portfolio that includes liaisons with all the systems and people who get Obama where he needs to go.
It was Mastromonaco who orchestrated presidential trips to Iraq and Afghanistan, and who skillfully and secretly set up meetings between Obama and his potential vice presidential picks even as the press watched the campaign's every move. She's been with Obama since his days in the Senate.
DeParle, Obama's senior adviser on health care, will become deputy chief of staff for policy, succeeding the departing Mona Sutphen. She became indispensable to the president during the long months of negotiations over health care reform, and she will now tend to Obama's efforts to implement the health care law in the face of Republican efforts to defund it.
Carney, an affable former journalist for Time magazine, has had the sometimes unenviable job of keeping his boss, the free-wheeling former senator from Delaware, on message and explaining away the times when Biden steps out of line. He is married to the author and television correspondent Claire Shipman.

---
MORE FROM NATIONAL JOURNAL:
Obama's Evolution
Unrest May Change U.S.-Egypt Relationship
Romney Aides Discussed Skipping Iowa
---
="">
Carney has played a key role in developing the administration's post-stimulus messaging. The extent of his relationship with Obama is unclear. He'll have the advantage of having been colleagues--competitively or as part of the same organization--with many journalists across the podium.
Obama plans to announce the new staff together, issuing a paper statement rather than making a public announcement, according to the departing Gibbs. "It could be later today and could be tomorrow," Gibbs said. At the time of the White House press briefing, Gibbs said that he was not aware that Obama had informed the candidates of his decision.
As of 2:30 pm today, several candidates confirmed that they had not heard one way or the other. The DeParle and Mastromonaco decisions were made before new chief of staff William Daley arrived. Daley joined presidential counselor David Plouffe in advising Obama on the press secretary search, which began more than six weeks ago and involved a series of face-to-face interviews. Daley is said to have advocated for a press secretary with the requisite seasoning for the job--an "adult," in the lexicon of Washington. Of the five names most frequently mentioned as candidates, Obama has spent less time with Carney than all but one, former DNC communications director Karen Finney. Several, like deputy press secretary Bill Burton and deputy communications director Jen Psaki, are relatively young; Gibbs is 39. But only Burton has actual experience on the podium, substituting for Gibbs at least a half-dozen times in televised briefings.
Although Carney was primarily a print journalist, he made frequent television appearances during his career at Time, which included stints as the magazine's Moscow correspondent, White House correspondent, and Washington Bureau Chief.
This story was updated at 4:00 PM and 4:11 P.M, Jan 27

Image credit: Facebook