Views on Afghanistan Hit a Low Point
As the new Afghanistan policy review recommends that troops begin withdrawing next summer, faith in the war effort is hitting a low point. This chart from ABC News, which includes new polling released today, says it all: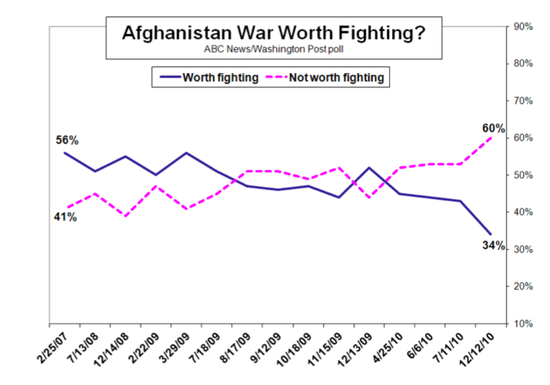 President Obama, as ABC News points out, receives mixed numbers for his handling of the war:
...45 percent approve of Obama's work on Afghanistan, matching his low, while 46 percent disapprove, a scant 2 points from the high. Still, that's considerably better than Bush's ratings for handling Iraq in his second term -- on average, 63 percent disapproved of how he did.

One apparent reason is Obama's pledge to start withdrawing U.S. forces next summer. Fifty-four percent of Americans support that time frame -- up by 15 points since it was announced a year ago. An additional 27 percent say the withdrawal should begin sooner; just 12 percent say it should start later, down 7 points from a year ago.

So the president is not yet being blamed, entirely, for the bad situation in Afghanistan, at least not much more so than at any other point during his presidency.