Texas Wins Big, Sun Belt States Gain in Census
The Sun Belt will gain new seats in Congress based on the U.S. population's continued shift south and west, according to data released Tuesday by the U.S. Census Bureau and its director, Robert Groves.

---
MORE FROM NATIONAL JOURNAL:
Christie Bandwagon Hits a Speed Bump
The Comeback Kid?
Trump in 2012: Populist or Manager?
---
The new data show that the country grew at a slower pace than it has in earlier decades. But states in the South grew at a faster rate than those in the Rust Belt; those states will give up some representation in Congress, while Southern states will grow in influence.
Arizona, Nevada, South Carolina, Georgia, Utah, and Washington state will all gain one member of Congress. The Texas delegation will grow the most, adding four new seats; Florida's will gain two.
Meanwhile, Pennsylvania, Illinois, Iowa, Michigan, Massachusetts, Missouri, New Jersey, and Louisiana will each lose a House seat. New York and Ohio, both hard hit by generations of migration and more recent industrial stagnation, will lose two seats each.
Louisiana, the only state not in the Northeast or the Midwest to lose a seat, lost population following Hurricane Katrina in 2005, when thousands of residents fled to neighboring states, largely to Texas.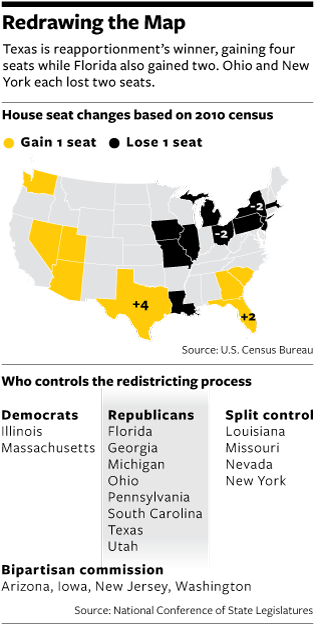 The trend of House seats migrating south along with population has continued for the better part of a century. Southern states and those along the country's border with Mexico held 195 seats in the past decade, up from 124 seats after the 1930 Census. In the next decade, those states will be represented by 204 House members.
Rust Belt states in the industrial Northeast and Midwest have bled seats over the same period. After the 1930 Census, New York was awarded 45 seats, Pennsylvania got 34, and Ohio had 24. In the next decade, the Empire State will have 27 representatives, the Keystone State 18 and the Buckeye State just 16.
The Northeast and the Midwest grew by small margins, growing just 3.2 percent and 3.9 percent each. The South grew by 14.3 percent, according to census data, led by Texas, Georgia, and Florida, all of which grew at much higher rates. Arizona, Nevada, and Utah grew fastest in the West, which as a region grew by 13.8 percent over the last decade.
Emblematic of internal population shifts, the West now has a larger population than the Midwest, Groves said.
Despite grim forecasts, Commerce Secretary Gary Locke said that the Census Bureau completed its decennial work on time and $1.87 billion under budget. Fully 74 percent of Americans returned Census questionnaires by mail, about the same rate that returned questionnaires in 2000, Locke said.
The country's total population, as of April 1, 2010, was 308,745,538, a growth of 9.7 percent over the last decade.
Thumbnail image credit: dherrera_96/Flickr