'Female Obama' Must First Tackle California
A month after Jerry Brown and Barbara Boxer shot down conservative threats to their California legacies, a new-generation Golden State politician has confirmed Democrats' lockdown on the state. Northern Californians have long been chattering about Kamala Harris, the Indian and African American San Francisco DA who tackled the city's prison industrial complex and recidivism rates with a vengeance. But now that she's won a protracted vote-count for state attorney general, Harris is drawing national attention. And Democratic star-spotters are liking what they see.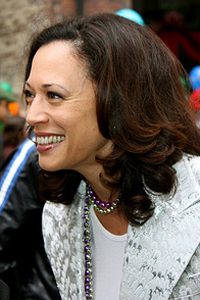 There have been the irresistible
comparisons to Obama
--he and Harris share youthfulness, multiracial backgrounds and starry-eyed progressive appeal--and odes to her cultivation of a "tough on crime" reputation in spite of her gender. There have been predictions that her San Francisco liberalism, particularly her personal opposition to the death penalty, will doom her in a national political climate that's shifted to the right. There has also been discussion of the historic role California's AG job has played in launching the careers of major state and national players--a congressman, chief justice, and at least three governors among them.
But before the liberal establishment can officially anoint Harris, she will have to tackle some of the nation's most pressing legal issues. As AG, she'll be juggling gay marriage, prison reform, immigration rules, and controversial crime and climate laws.
On Monday, the Ninth Circuit Court of Appeals takes on David Boies' and Ted Olson's federal challenge to Prop. 8, which many expect to end up in the Supreme Court. Like Jerry Brown before her, Harris has said that she will not defend the gay marriage ban that voters passed in 2008, meaning independent advocates of Prop. 8 will once again appear to argue the case.
She is a strong supporter of AB32, the groundbreaking climate law upheld by voters in November. She has used a light touch when handling the state's three strikes law, declining to seek third-strike punishments of 25 years to life for anything but serious, violent offenses. The item political and legal observers may most closely watch, however, is whether Harris puts aside her open opposition to the death penalty to pursue capital punishment appeals on behalf of the state.
Born to an oncologist and an economics professor and raised in 1970s Berkeley, Harris is steeped in Northern California's uniquely resilient liberal ideology. When the rest of the nation used Nancy Pelosi as a rallying cry to denounce leftist extremism, San Franciscans proudly re-elected her to a 12th term.
But representing a state that this year came close to ditching its stand-by Democrats for upstart Republican CEOs will require a more nuanced approach. Even if calling Harris the "female Obama" is reductive and imprecise, she may find herself in a similar position to the president following his election in 2008. Having charmed just enough voters hoping for bona fide liberalism, Harris now has to navigate a broken system that takes well to neither idealism nor reform while simultaneously guarding her political future.
Photo Credit: aSILVA / flickr