Your Map Guide for Poll Closings
Which states to watch, and when
We probably won't know the full extent of Republican gains until Wednesday morning, but some key early races will be a good indicator of what we can expect.  These races aren't perfect bellwethers, but ones that I think have some interesting stories and color and that I'll be watching closely tomorrow evening.
I'll also be watching 28-year incumbent Rick Boucher in the southwest part of the state. He's a great fit for the district and is a master of constituent relations, so if he falls, then we can probably expect Democratic losses on the high end.
At 7:30, I'll check to see if 
Joe Manchin
can pull off a win in the
West Virginia Senate race
.  If he wins, then Democrats effectively hold the Senate.
Also at 7:30, Ohio polls close. As in many elections, the Buckeye State is the premier battelground with at least five incumbent Democratic representatives and incumbent Gov. Ted Strickland on the hot seat.
And at 8:00 pm, my eyes will be trained on Pennsylvania, which has five Democratic House members in danger and also features a Senate race that is likely to be a photo finish.
By 9:00 pm, most of those returns will have become public, and I think we'll have a good indication of the score in this election. Of course, there are nearly 100 House seats in play and dozens of governors' and Senate seats, so we'll have a massive amount of returns to analyze.
Keep this map with you throughout the night as a reference to when the polls close: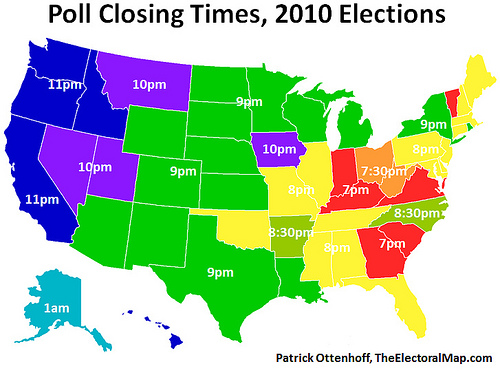 The map is also embeddable on your blog with this code: <a href="http://www.flickr.com/photos/theelectoralmap/5136055605/" title="Poll Closing Times, 2010 Elections by TheElectoralMap.com, on Flickr"><img src="http://farm5.static.flickr.com/4019/5136055605_d2ff67c778.jpg" width="500" height="373" alt="Poll Closing Times, 2010 Elections" /></a>