Pat Toomey Will Eat Your Brains!
So says the cover of the Philadelphia City Paper
That's what the current Halloween-themed cover of the Philadelphia City Paper is warning Pennsylvanians: Pat Toomey, the Senate candidate and former congressman, who's been a leading anti-tax, anti-spending voice in Washington, D.C. for the past few years, wants to feed on the brains of the living.
Here's the cover, which teases Jeffrey C. Billman's "66 Reasons NOT to Vote for Pat Toomey":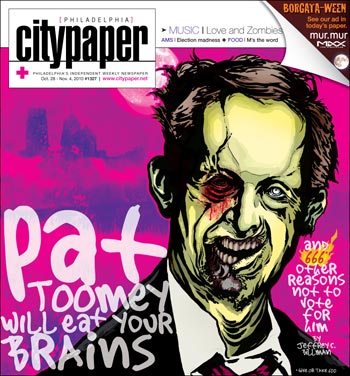 Toomey, in turn, is raising money off the cover. He sent a fundraising e-mail to supporters on Friday, writing that "most folks wouldn't use this newspaper to line their pet's cage, but here in Southeast PA, it's on every street corner" and asking for help raising $40,000 to hit back.