Gestures That Won the Midterms
I've spoken extensively with Don Khoury, proprietor of Body Language TV, about the role of body language and nonverbal communication in elections. With a 95% success rate in predicting the outcome of this cycle's gubernatorial elections, Khoury recently broke down the winning gestures in several races. Here are his analyses for the gubernatorial contests in California, Ohio, Illinois, and Massachusetts.
California
Jerry Brown (D) def. Meg Whitman (R)


Khoury: "Meg Whitman oscillated far more then Jerry Brown. She did a lot of wringing of her hands and used a lot of insincere facial expressions. There was a lot of shrugging, too: she shrugged four times in their first debate, indicating that she's either unsure of her answer or doesn't care.

"The other interesting thing was Jerry Brown's 'one-two-three' counting on his fingers, showing a level of mental organization. He did this sixteen times; Whitman did it only four times. Brown used humor far more than Whitman, putting the audience at ease.

"Whitman wasn't the right candidate. One interesting thing about Jerry Brown's performance: He was able to be aggressive without being angry with an opposite gender candidate, and that's very difficult to do."
Ohio
John Kasich (R) def. Gov. Ted Strickland (D)


Khoury: "Ted Strickland used more of the trained gestures, but Kasich used more of the sincerity motions. John Kasich came off as more transparent and more passionate, that he had full belief in what he had to say. It didn't feel like he was saying things just because people wanted to hear them.

"Strickland didn't come across as transparent as Kasich. Kasich came across with a real plan, with 10 instances of counting on his fingers like he had a definite plan. Stickland had none of that.

"Kasich did far more definitive gestures, general illustrators like chopping the air and showing your palms, which give people a general feeling of honesty. It's like waving to someone: that goes back to ancient times when we'd show people our palms to indicate we weren't armed. It's the same sentiment."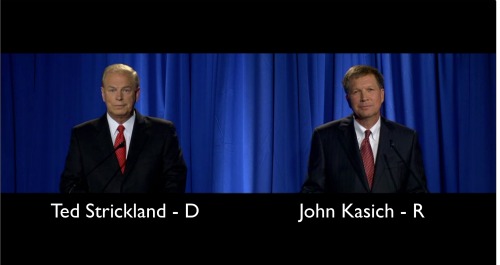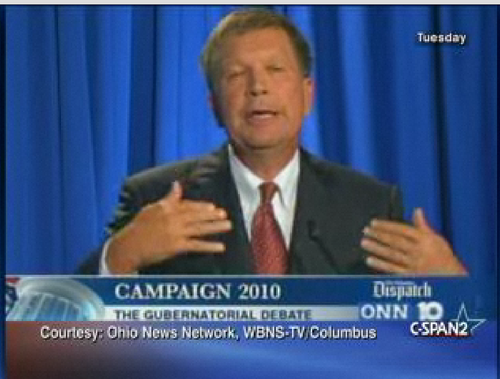 All images courtesy of Don Khoury/Body Language TV


Illinois

Gov. Pat Quinn (D) def. Bill Brady (R)

"Democrat Pat Quinn was obviously highly coachable; he used a 'from the heart' sincerity gesture -- motioning towards his chest -- that made him come across as an honest, trustworthy guy. There were 44 instances of Quinn making these sincerity gestures and only nine from Republican Bill Brady in the course of their debates.

"As for Brady, the Republicans picked the wrong guy; Brady was oscillating [making rapid, back-and-forth motions with his hands] a lot in comparison to Quinn, making him come off as nervous and indicating a certain level of mental disorganization.

"Something interesting to note: Brady was ahead in the polls, but he went on the attack straightaway with far more finger pointing, which is a highly aggressive motion. It was a surprise because normally the person who is ahead doesn't do those things."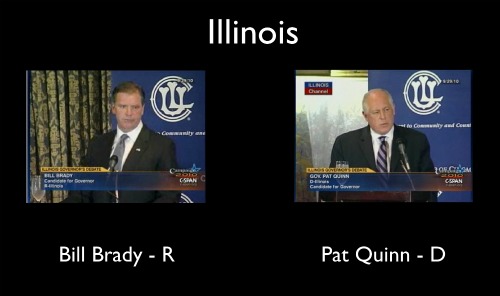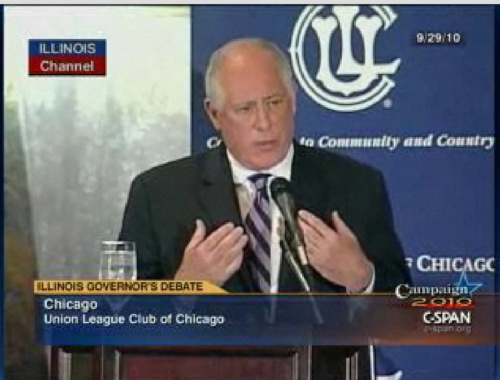 All images courtesy of Don Khoury/Body Language TV
Massachusetts
Gov. Deval Patrick (D) def. Charles Baker (R) and Timothy Cahill (I)


Khoury: "Deval Patrick was one of the best candidates in debate this year. Patrick did more of the positive things you would expect and less of the negative things: He didn't wring his hands, covering of his body in a defensive way. He didn't do any aggressive finger pointing.

"Baker oscillated and shrugged, had rapid jerking movements, looked down, and generally looked tense. His whole body language was both nervous and dismissive. His weight was off center. He didn't have the refinement and experience that someone like Deval Patrick has.

"Patrick is consistent from day to day in his public appearances; Baker 's body language changed from his [primary] acceptance speech in Worcester to his time in debates. Charlie Baker is a nice guy, but he doesn't have the ability to project leadership like Patrick did.

"Even the way Deval Patrick sat in his chair; it was the exact same way that John F. Kennedy sat in his chair in the 1960s. Somebody has explained to him the calm, non-aggressive, confident features of body language."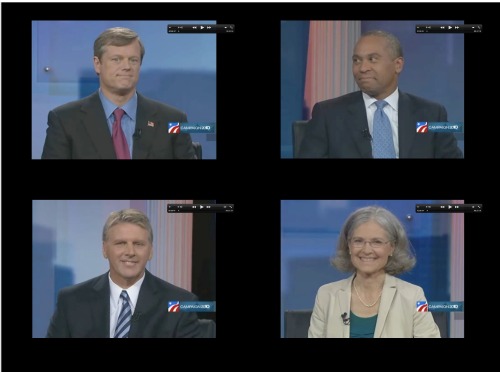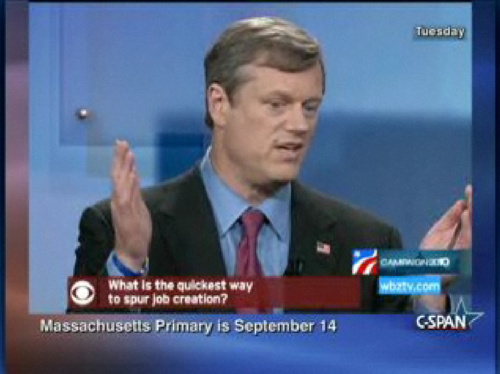 All images courtesy of Don Khoury/Body Language TV