John Boehner to Campaign With Nazi-Reenactor Rich Iott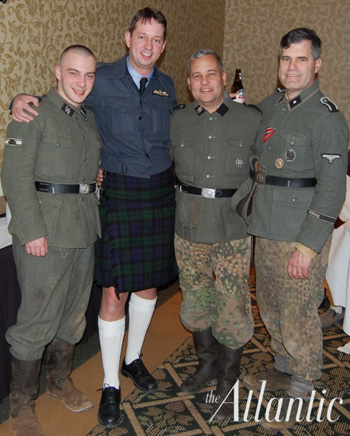 Okay, this is provocative: According to Rich Iott's website--you remember him, don't you?--presumptive Speaker of the House John Boehner will campaign with Iott on Saturday. This seems strange on many levels. There's the Nazi reenacting level. The Iott-isn't-going-to-win level. And the Eric Cantor-has-repudiated-Iott level, which is doubly interesting because Cantor could possibly challenge Boehner for speaker. I'd have assumed that Boehner would be spending the last weekend before the election stumping for candidates in closer races. Not sure what's going on here. But I trust there's no dressing up involved.
Think anyone will notice? Yeah, me too.
The DCCC's Ryan Rudominer says, "Not only has John Boehner recruited, embraced, and financed a disgraced Nazi enthusiast running for Congress, but now Boehner is pouring gasoline on the fire by holding a campaign rally with him. Unbelievably, this comes on the heels of John Boehner also embracing an Ohio congressional candidate being sued for attempted rape and sexual assault, and another who has ties to an organized crime syndicate that brands women like cattle.Thumbing his nose at our nation's veterans, women, and people of the Jewish faith, all the while refusing to stand up for basic American values in order to try and win an election, apparently this is what Boehner meant when he said, "We're not going to be any different than what we've been."
UPDATE: The American Gathering of Holocaust Survivors and Their Descendants doesn't approve either, per this statement from Elan Steinberg: ""We ask Congressman Boehner to understand our pain and reconsider his appearance  at the side of an unrepentant Nazi re-enactor.
"Congressman Boehner your place is at the side of the victims of the SS - civilian adults and children, Allied and American POW's - not with someone who dresses up in the garb of mass murderers.
"We know that Rich Iott is not a Nazi.  But his failure to apologize for his Nazi role-playing demonstrates a profound failure of moral judgement and sensitivity which cries out for a response."
LATER UPDATE: In a statement to The Atlantic, Don Seymour from Boehner's staff says it's about the volunteers: "Leader Boehner will be rallying Republican volunteers at the Lucas County Victory Center to support the local Republican Party's get-out-the-vote efforts.  Boehner has been on the road headlining rallies for Republican candidates in Ohio and across the country, and he'll continue his busy campaign schedule into the final weekend before Tuesday's referendum on Democrats' jobs-killing policies."