Colbert's Ratings Climbing, While Stewart's on Slight Dip
One might expect the combined John Stewart/Stephen Colbert ratings to taper off as the enthusiasm of the liberal body politic dips and people lose interest in politics, but that's not the case.
After the strong Democratic years of 2006 and 2008, ratings for The Daily Show and The Colbert Report continued to climb in 2009.
Colbert's ratings continues to climb, while Stewart's fell...perhaps indicating that Colbert's aggressive style and anti-bear agenda have taken root in the American consciousness. Colbert drew an average 1,332,000 viewers per show in 2009 and 1,337,000 in 2010 so far; Stewart drew 1,909,000 in 2009 and has drawn an average 1,882,000 in 2010.
So far in 2010, their combined ratings have thus taken a slight dip, along with the bigger dip in enthusiasm and excitement among the Democrats and disaffected Democrats that watch their shows.
Stewart still draws more total, as he has since the Colbert Report launched.
Here are the average ratings for The Daily Show and The Colbert Report over the past five years, kindly compiled and provided to The Atlantic by Nielsen.
The following are estimated average audiences per show, only counting viewers over the age of two, and depicted in a rudimentary Excel graph (my handiwork, not Nielsen's):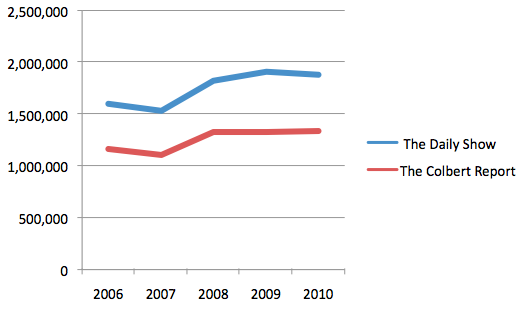 And here in a spreadsheet, including combined viewership figures for Stewart + Colbert: