American Mustache Institute Endorses Jimmy McMillan for Governor
The American Mustache Institute agrees: The Rent Is Too Damn High.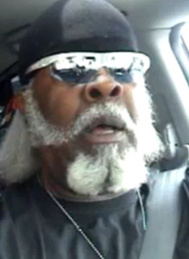 Jimmy McMillan, who is running for governor of New York as a candidate of The Rent Is Too Damn High Party, which he founded, has received the endorsement of the American Mustache Institute in his bid for office. (See more on McMillan
here
.)
McMillan sports a mean Imperial style mustache--sideburns connected into a 'stache, known on the street as the "General Lee"--accentuated by an equally ferocious goatee. His facial hair portfolio vaguely resembles that of Ambrose Burnside, for whom sideburns are named.
American Mustache Institute Chairman Dr. Aaron Perlut, previously interviewed by The Atlantic, wrote to McMillan today, notifying the candidate of AMI's endorsement via e-mail:
Mr. McMillan,

This e-mail is to inform you that the American Mustache Institute will indeed endorse your candidacy for Governor of the State of New York.

Indeed, as a person of Mustached American heritage, you represent all that is good and decent about America, and clearly, someone who should be leading the great state of New York.

Your history as a Vietnam veteran, as well as being a karate expert -- which comes naturally and without training for any Mustached American -- will suit you well as you enter the governor's mansion in Albany.

We look forward to attending your inauguration and have posted our intentions of support on our blog, which you can see HERE <http://americanmustacheinstitute.org/blog/2010/10/ami-endorsing-mcmillan-for-new-york-governor/> .

Carry on.

Dr. Aaron Perlut
Chairman
The American Mustache Institute