Top GOP Party Strategists Attending Log Cabin Event
Suddenly, it's becoming less of a stigma for bigwigs to associate with gays in the Republican Party. Not only has former RNC chairman Ken Mehlman's 9/22 fundraiser for gay marriage rights attracted numerous high-octane Republican donors and activists, but Sen. John Cornyn, the chairman of the National Republican Senatorial Committee, and Rep. Pete Sessions, the chairman of the National Republican Congressional Committee will help the Log Cabin Republicans, a gay GOP group, raise money for its political action committee. (Part of this story was first reported last month.)
A glossy pamphlet advertising the Log Cabin Republicans' national dinner at the Capitol Hill Club highlights an hour-long cocktail gathering with the two party committee chairs, both strong opponents of gay rights. But their attendance will add to the coffers of the LCR's political action committee, which endorses Republicans who support gay rights.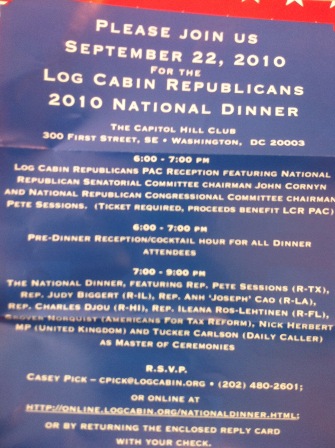 The LCR national dinner, which follows the private fundraiser, will include Sessions, Rep. Judy Biggert, Rep. Anh "Joseph" Cao, Rep. Ileana Ros-Lehtinen and Grover Norquist of Americans for Tax Reform. The Daily Caller's Tucker Carlson will serve as Master of Ceremonies.
The Log Cabin Republicans' Mission Statement proclaims fidelity to conservative principles like a "strong national defense" and "limited government" before it discusses marriage rights and an "inclusive definition of the family." But in practice, the group does not endorse candidates who oppose gay rights. 
Cornyn and Sessions are not on record as having ever supported any gay rights measure.
Cornyn
has been derisive
about gay marriage in the past, likening homosexuality to "man on box turtle,"
but recently said his opposition to gay marriage should not be construed as any effort to degrade the dignity of people whose sexual orientation is different than his.  (
CORRECTION APPENDED
)
Like Cornyn, Sessions has received a "zero" rating from the Human Rights Campaign, which scores lawmakers based on their support for gay rights initiatives.
The presence of the top two party political strategists at a gay Republican event means that both men do not believe the criticism they'll get from consorting with gay rights advocates will in any way complicate either their immediate goals as party committee chiefs or the future of their political careers. What message their presence does send, aside from each side's willingness to be used as a financial vehicle, is unclear. An NRCC spokesperson said that Sessions was attending in his capacity as NRCC chair.
The Log Cabin Republicans have re-invented themselves several times over the past several political cycles, endorsing George W. Bush in 2000 but refusing to endorse him in 2004 because of his support for a constitutional amendment banning gay rights. This led to a schism among gay Republicans, with the LCR's board insisting that "certain moments in history require that a belief in fairness and equality not be sacrificed in the name of partisan politics; this is one of those moments." In 2008, the LCR endorsed the McCain-Palin ticket despite its solid opposition to gay rights, although McCain was lauded for his opposition to the Federal Marriage Amendment.

The tension here is that while there is not even a remote chance that a Republican Congress will advance the cause of gay rights, the Log Cabins have to start somewhere. Either they build bridges with the GOP leadership, or they sit on the sidelines. And there's perhaps no better time to begin relationships than when voters are not preoccupied with social issues.
"As the Executive Director of LCR, it would be irresponsible of me to not seek common denominators or common points of interest to build relationships with our conservative colleagues," R. Clarke Cooper, LCR's executive director, wrote in an e-mail message. 
For example, if I can start a dialogue with my Republican colleagues by agreeing on economic growth and tax equity for all Americans, that is much better than refusing to dialog because some Republican members may not support other equality measures.  Yes, there are differences among Republicans when it comes to the application of civil rights for gays.  Some Republican members of Congress are willing to co-sponsor Employment Non-Discrimination Act (ENDA), but remain uncomfortable supporting full marriage equality.  So, do I deny the support of some pro-ENDA Republicans because they have yet to fully appreciate why equity in civil marriage is necessary?  No, I will embrace their existing support and then work to secure further understanding and support.   



Mehlman, in an interview, said that the event he is co-hosting with Manhattan Institute board chairman Paul W. Singer has $1,000,000 worth of commitments. He said he was happy to see that GOP leaders were attending Log Cabin events -- "that's great news."
Still, at least three potential GOP presidential candidates said they support the campaign of activists who want to oust Iowa justices who legalized same-sex marriage, and none of the potential GOP candidates has expressed support for ending the Don't Ask, Don't Tell ban on gays in the military.