From the Archives: 'Countdown to a Meltdown' 2005
What we knew about the 2010 election (and beyond) back in 2005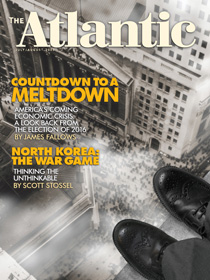 Five years ago, when the housing market and the stock market were still both going strong, the Atlantic ran as a cover story my article "Countdown to a Meltdown." It was an imagined history of the Presidential Election of 2016, and the "MacGuffin" of its plotline was the big (and at the time also imaginary) housing/financial crash of the late 2000s. The idea was that prolonged economic chaos discredited both of the main political parties and cleared the way for a third, "let's cut the crap" party to take the White House six years from now. It's written in the form of a "What do we do now?" memo from the new party's Karl Rove equivalent to the candidate destined to win in 2016.
Obviously a lot of the details and color in the story are out of date now. I was, after all, writing it early in 2005, soon after George W. Bush had been sworn in for a second term. But some of the patterns will not seem so outdated. I think it's worth a look.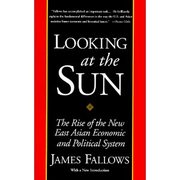 And while I'm at it, I might as well add an even older item from the archives, "
How the World Works
," from 1993, about the mismatches between the U.S. economy, as influenced by its political values and prevailing ideology, and the export-related economies of Asia. Japan, which was a main focus of that story, differs in very significant ways from today's emerging China. But there are similarities too. The article then became part of my book Looking at the Sun. FWIW.