Democratic Party Steals Logo From the Pizza Place Where I Used to Work
The Democratic Party unveiled a new logo this morning, and, seeing the new insignia for the first time today on the party's revamped website, I thought it looked familiar.
Not without reason. It suspiciously resembles the logo for the pizza place where I used to work in St. Louis--a small independent chain called
Dewey's Pizza
, based in Ohio.
Here's the new Democratic Party logo:

And here's the logo for Dewey's Pizza: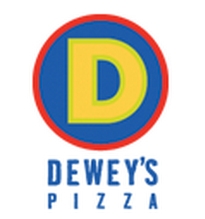 I wore a t-shirt bearing this logo multiple nights a week for the better part of a year, and it's good to see that the Democratic Party has found aesthetic virtue in it. I always felt lame in the shirt, but hey...
I hope to obtain an explanation of this brazen thievery at some point from the Democratic National Committee, but they're probably busy right now with Chairman Tim Kaine delivering a speech at George Washington University.*
It also seems dubious how the owner of Dewey's, Andrew E. DeWitt of Cincinnati, would feel about the newfangled DNC crest. He's a Republican donor, having given money to Bush/Cheney in '04, Mitt Romney in '08, Ohio Rep. Jean Schmidt (R) this year, and multiple state Republican parties along the way. (Donations which, technically, I aided by moving so many pizzas for Mr. DeWitt with my ninja-like serving skills.)
Maybe Democrats are simply honing in on the insigniatic success of a Midwestern small business. The logo has already been message-tested in Ohio, Kentucky, and Missouri, where Dewey's operates, and in the boom year of 2006 (a good year for Democrats, too), those pizzas were selling fast.
The font on the "D" is pretty similar. I'm just saying.
*UPDATE: My hunch was correct. A Democratic National Committee spokesperson declined to comment on the undeniably striking resemblance.