A Dark Horse for Chief of Staff?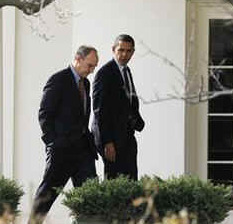 One of Marc Ambinder's White House sources lays out what the president will be looking for in his next chief of staff if, as many people expect, Rahm Emanuel departs after the midterms:

One White House adviser who is familiar with personnel matters...predicted [that the president] will choose his next chief of staff by setting criteria and then figuring out who best fills them. Priority one is competency, discretion and trust, qualities that Obama believes are linked to each other. Then comes managerial competence, followed by a fresh set of eyes, a deep knowledge of the policy-making process, and perhaps a distinctive voice -- someone who does not have ties to Chicago politics.

Marc's post is about Tom Donilon's chances. He thinks they're exaggerated, even though Donilon fits the bill. Another person who fits this description (uncannily so, to my mind) is Phil Schiliro, who can be thought of as something like the anti-Rahm. Schiliro is the Assistant to the President for Legislative Affairs, the liaison with Congress. If the name doesn't ring a bell, that's by design. Schiliro, unlike Emanuel, almost never talks to reporters or goes on TV. (He's the mystery guy walking next to the president a lot in pictures like this one.) But he's certainly competent, discreet, and trustworthy, knows the policy-making process inside and out, and has no ties to the Chicago crowd. For about 25 years, Schiliro was chief of staff to Rep. Henry Waxman (D-CA), and joined the Obama presidential campaign in the final stretch.
I'm not predicting that Schiliro will get the job, or that he wants it. I don't know either one. A few months ago, I floated the possibility to someone who insisted, rather indignantly, that it would never happen. So Schiliro is a dark horse. But his name has popped up on a couple of CoS lists in the last day or so. If Obama is serious about legislating and getting bills through Congress in an even tougher environment--and from what I can tell, he is--then Schiliro would be an intriguing choice.