John Gerth, of the computer science department at Stanford, sent a link to a powerful illustration, by Latoya Egwuekwe, of the spreading effects of unemployment across the country during this recession. The animated version is here, and a sample frame, showing conditions back in the palmy days, looks like this:
The map shows the rate county-by-county, with the hue darkening as layoffs spread.
I actually mentioned this same map several months ago, but at that time I didn't know the "choropleth" complication. It turns out that, in most familiar terms, this is the concept that "geography does not equal population." When we see a Red State/Blue State electoral college map in a close election, it looks like the country is voting overwhelmingly Republican, but that is because Montana, Wyoming, the Dakotas, etc occupy so much space and contain so few people. For anyone who has forgotten, the hair's-breadth 2000 election, in which the outnumbered-looking "blue" candidate received more popular votes than the dominant-looking "red" one: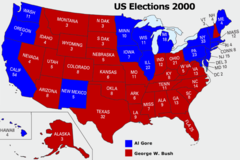 The problem is greatly reduced, but remains, in county-by-county maps, like this one showing unemployment rates. My original homeland of San Bernardino County, Calif, which runs from just outside Los Angeles to the Nevada and Arizona borders, is bigger than several New England states combined, but most of it is mountain or desert.