The GOP's Record Pre-Midterm Lead
It's all about individual states and districts, but Gallup announced today that the Republican Party has taken its biggest lead ever seen in a midterm year in the whole history of Gallup's generic-ballot polling. (Though not larger than any lead Democrats have enjoyed.) The GOP enjoys a 10-percentage-point, 51-41 advantage over Democrats when respondents are asked whether they'll be voting Democratic or Republican for the House of Representatives in this November's elections. And that lead has spiked sharply in the month of August: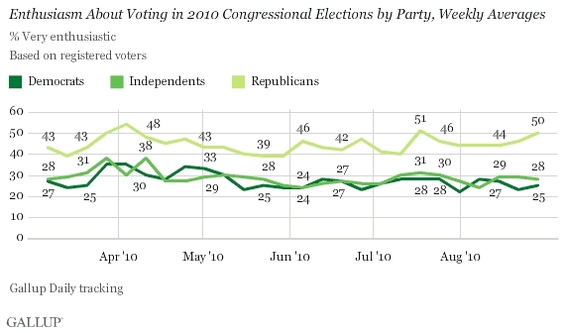 Gallup's tracking goes back to 1950; the largest lead was 32 percentage points in favor of Democrats in July 1974, before Richard Nixon resigned over Watergate.
Are the new numbers evidence of a galvanized GOP base in already-conservative districts or a general Republicanizing of the country? Tough to know, but probably some (or a lot) of both.