Most Don't Count on Social Security Benefits
This weekend will mark the 75th anniversary of Social Security, and while Democrats are pushing Social Security as a campaign issue in races across the country, hitting Republican candidates for supporting privatization or a phasing out of benefits, most respondents to a CNN/Opinion Research poll say they don't count on full benefits continuing in the future.
Retired respondents didn't think the program will be able to continue paying in full without cuts; non-retired respondents voiced some overwhelming pessimism, with 60% saying they don't think Social Security will be able to pay them "a benefit" when they retire.
From the national telephone survey released today: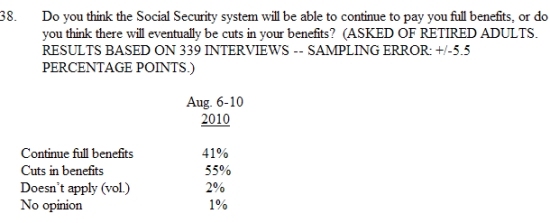 And the non-retired respondents:
Social Security's $678 billion accounted for 19% of the federal budget in 2009, according to tables from the Office of Management and Budget.